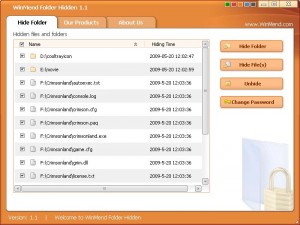 A few posts ago, Ashraf thoroughly covered a couple of heavy duty serious encryptors called AxCrypt and TrueCrypt. If you're looking for a way to hide your files/folders in a more simple, lightweight and less FBI/CIA style, then WindMend Folder Hidden might be just what you need.
WHAT IS WINDMEND FOLDER HIDDEN AND WHAT DOES IT DO?
In a nutshell, WindMend Folder Hidden (WMFH) is a simple password protected file/folder hiding tool that can do the deed either on a local drive or on removable devices; the files and folders remain hidden even if you switch computers (for removable drives). (Note: WindMend Folder Hidden does not encrypt files or folders; it hides files and folders with the added bonus of a password being required to unhide files/folder.)
The developer, WindMend, highlights the following features of WMFH on their website:
1. Safety First – The hiding technology will never damage any file data. It is safe and reliable.

2. High-Speed Hiding and Unhiding – Whether it's a file of dozens of GB, or a folder containing a lot of files, the file or the folder can be hidden and unhidden instantly.

3. Removable Drives Are Supported – Files and folders on removable drives such as USB drives hidden by WinMend Folder Hidden are invisible not only in the computer where the hiding was completed, but in any computer.
Looks neat. Let's give it a try, shall we?
USING THE SOFTWARE
SETTING UP WMFH
When launched for the first time, WMFH asks you to choose and confirm a password  (mine is *********):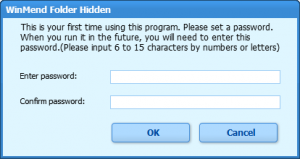 About the password, if by any chance, God forbid, you forget/loose the password in the future, WinMend offers a fee-based service in order to retrieve your password. You just need to purchase WinMend's Folder Hidden Password Retrieve Service: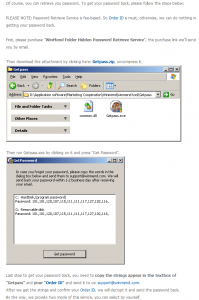 Once the password is chosen, the application starts and you can choose the color that best suits your mood: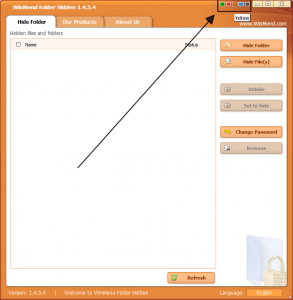 This is Yellow? More like Orange, no?
HIDING FILES AND FOLDERS
Let's start using WMFH by hiding a folder. To hide a folder click the Hide Folder button…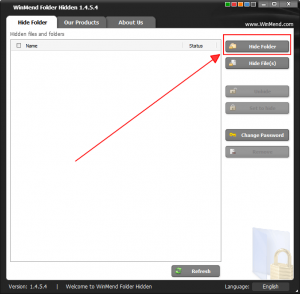 …and select the folder you want to hide: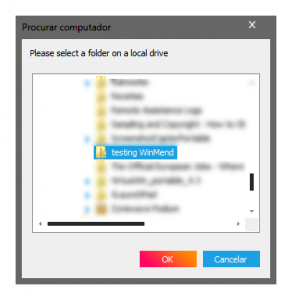 I've created a folder called "testing WindMed" just to help teach you how to use this program. Aren't I a nice guy?
Once you have done as described above, the folder is instantly hidden: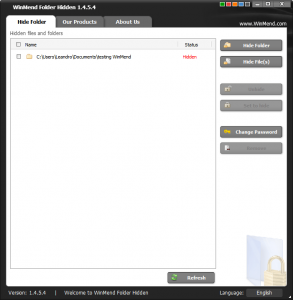 Before moving on, a couple of notes about hiding folders:
Folders are instantly hidden no matter what size they are;
System folders can't be hidden.
Let's try a file now, same drill, same result. No matter the size of the file, the process is instantaneous: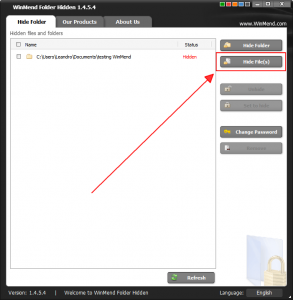 UNHIDE FILES AND FOLDERS
To unhide previously hidden files and folders just select them first and then click the Unhide Button: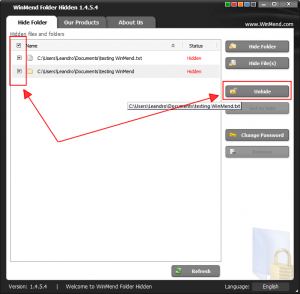 If, by mysterious reasons, you fail to unhide files and/or folders, WindMend offers, free of charge, a data retrieving service: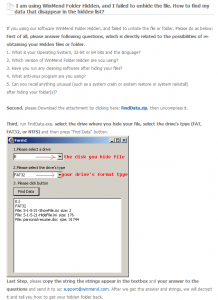 Once a file or folder is unhidden, it is Visible. Visible items can be Set to hide or Remove[d]: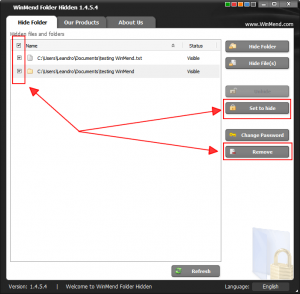 PICK YOUR LANGUAGE
Finally, at the down right corner of the application, you can find the language button. 17 different languages are available but, surprisingly enough, Portuguese is not one of them (not even from Brazil). Shocking, I know.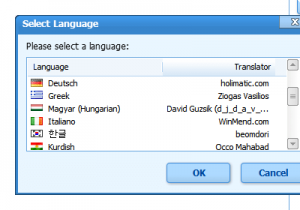 …ANYTHING ELSE?
Nope. That's pretty much it. The other two tabs on the top of the program window, Our Products and About Us, have nothing to do with the actual application.

THE VERDICT
Putting aside the missing Portuguese issue, WindMend Folder Hidden is a light, uncomplicated, and practical application that will hide any sensitive data that you wish in split of a second. The password or data retrieving services are added bonuses and a nice way to support the developer since we're talking about a freeware/donationware software.
Give WindMend Folder Hidden a try by downloading it from the links below:
Version reviewed: v1.4.5.4
Supported OS: Windows 2000/XP/Vista/Win7
Download size: 2.2 MB
Malware status: VirusTotal scan results (0/42)
WinMend homepage [direct download]
 [Thanks Dan!]
Related Posts