Software Description
The following is a description of Zemana AntiLogger, as per the developer:
Zemana AntiLogger lets you:

Do your online banking with peace of mind
Increase your PC protection
Defend against hackers
Protect against keyloggers
Guard against screen grabbers
Surf anywhere and download anything—worry free

Security Features

SSL Logger protection: (WORLD FIRST!) 128-bit encryption reliably secures data during online shopping and high-value financial transactions. Unfortunately, a new generation of spyware grabs your data just before it becomes safely encrypted! Zemana AntiLogger's unique proactive protection prevents your personal information from being stolen while you are conducting online banking transactions or e-commerce using an encrypted 128-bit SSL (Secure Socket Layer).
Webcam Logger protection: (WORLD FIRST!) Is Big Brother watching you? Hackers and spyware can seize control of your webcam, even when it's switched off! Needless to say, Zemana AntiLogger prevents this.
Key Logger protection: Keyloggers record whatever you type by monitoring the keyboard. This renders most security useless, but not Zemana AntiLogger!
Clipboard Logger protection: Copying, cutting and pasting sends potentially sensitive data to your Windows clipboard where malware can get at it. Fortunately, Zemana AntiLogger deals with all attempts at malicious monitoring, including memory capture.
Screen Logger protection: Just as you can take a screen capture, screenlogger malware snaps the screen at your most vulnerable moments, e.g., when you are plugging in sensitive data such as bank account information with VirtualKeyboard. Zemana Anti-Screen Logger spots this suspicious activity in ways that go beyond the standard, signature-based anti-keylogging algorithms.
System Defense: Malware likes to invade your registry, your physical memory (RAM), and other sensitive areas so it can inject malicious code and seize control of your PC. Zemana AntiLogger guards against all this, securing the very heart of your machine.
Freebie Details
Zemana AntiLogger is being offered for a limited time from BitsDuJour. This is is a 1 year license of Zemana AntiLogger. This giveaway ends at 23:59 Pacific Standard Time Tuesday August 6, 2013.  BitsDuJour states you must install and register within a month.
To get Zemana AntiLogger for free, do the following:
Version being given out for free: v1.9.3.500
Free update: Yes, for 12 months
Free technical support: Yes, for 12 months
Supported OS: Windows XP/Vista/Win7/Win8

Download size: 19.3 MB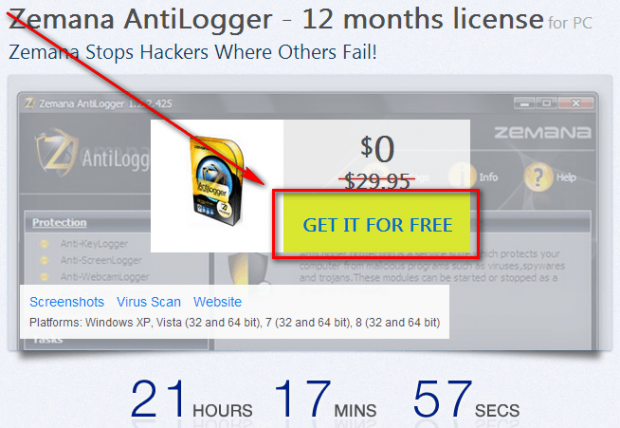 Fill out the form on the next page and click Complete Checkout: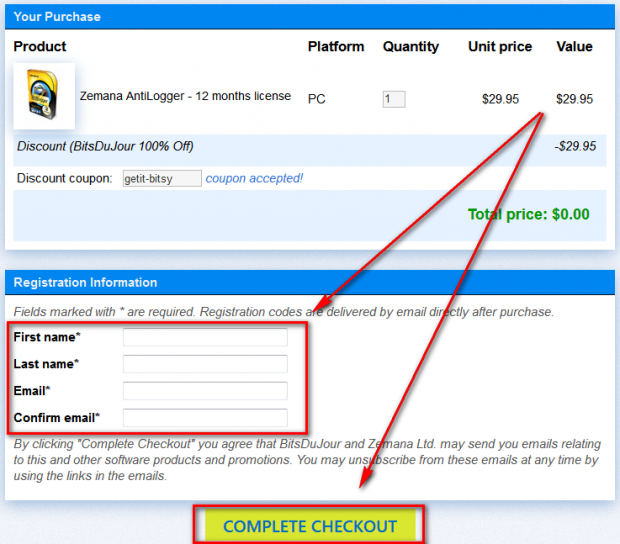 Now check the inbox of the e-mail address you registered with. Look for an e-mail from BitsDuJour Software Receipt – Zemana AntiLogger – 12 months license. In this e-mail you will find your registration code — copy it: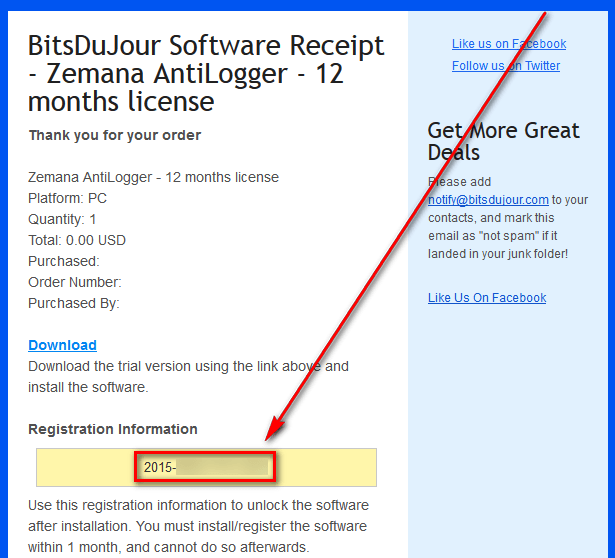 Download and install Zemana AntiLogger.
After installation, run Zemana AntiLogger and register it using the code you received earlier: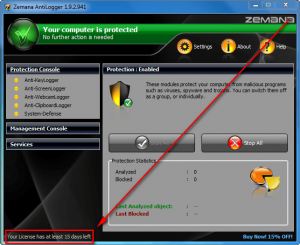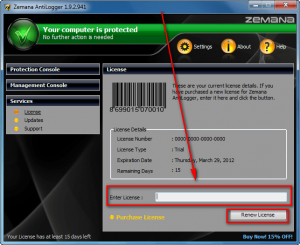 If you have trouble getting Zemana AntiLogger for free, post below and other dotTechies or I will try to help.
NOTE: This freebie was originally posted about in March 2012. That particular promotion has now expired but a new promo is now live.
[Thanks Godel and Goodwisher]

Related Posts