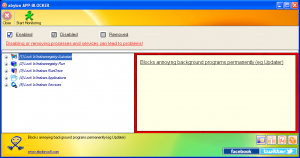 There was once a time when a startup manager was a unique program. Now, however, startup managers are dime a dozen. Abylon APP-BLOCKER is another startup manager that does more than just managing startup programs and processes. Let's see if it is worth your time.
WHAT IS IT AND WHAT DOES IT DO
Main Functionality
Abylon APP-BLOCKER allows you to manage startup programs/processes, block running programs/processes, and manager Windows services.
Pros
Enable, disable, or remove programs/processes that automatically start at Windows boot (including support for cleaning startup folder and startup entries in the registry)
Block/unblock specific running programs/processes — this feature is intended to let APP-BLOCKER automatically kill running programs/processes that you block
Enable, disable, or remove Windows services
Works with 32-bit and 64-bit processes and programs
Cons
Buggy. Very buggy.
Cannot delay startup programs or processes
Terrible interface and is confusing to use
Cannot be minimized to system tray (which is a very important feature that should be supported by APP-BLOCKER since one of its features requires APP-BLOCKER to be "always on")
Cannot start itself automatically at Windows boot (which is a very important feature that should be supported by APP-BLOCKER since one of its features is to block running programs/processes)
Discussion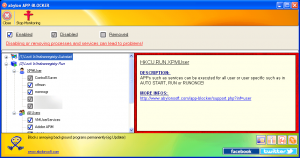 In terms of features APP-BLOCKER is fairly straightforward; it does three things, and three things only: manage startup entries, block running programs or processes, and manager Windows services. You would think a program that focuses on only a few features would be easy-to-use, right? Wrong.
APP-BLOCKER has an absolutely terrible interface… an interface that looks like it was designed in the early 90s. This interface makes APP-BLOCKER confusing to use. For example, you would know by looking at the interface that double-clicking any entry in the startup, running processes, or services lists disables the entry while double-clicking it again removes it. Nor would you know that the running processes list from which you block processes has all processes checked by default not because they will all be blocked but rather because they will not be blocked — you have to "gray out" the boxes to block running processes. Or at least I think that is how it works; I'm not entirely sure because the program sucks when it comes to user friendliness.
On top of that, as per my tests, APP-BLOCKER doesn't work. At all.
I tested APP-BLOCKER by having it block a couple of running programs. I expected the programs to be immediately closed by APP-BLOCKER once I added them to the block list and enabled monitoring. Nope. Then I thought: okay, maybe APP-BLOCKER only blocks programs from running but does not close already running programs. So I made sure APP-BLOCKER's blocking was enabled, closed the relevant programs, and then tried to open them again, expecting APP-BLOCKER to block them from running. Nope. Finally I thought maybe I was doing it wrong; maybe, in fact, you don't block running processes by graying out the checkboxes but rather block running processes when their checkboxes are white. So I repeated the just-mentioned steps using this new theory. Still no cigar.
At that point I'm ready to do face-to-desk but, doing my due diligence, I went to test APP-BLOCKER's other feature — managing startup entries. Long story short, it doesn't work either: I used APP-BLOCKER to remove a couple of programs from startup but APP-BLOCKER did not actually stop them from running at startup… they still ran when I restarted my computer.
I tested APP-BLOCKER on Windows XP 32-bit, for those that are curious. XP 32-bit is listed as supported by APP-BLOCKER.
Aside from all that, there is another odd issue I ran into with APP-BLOCKER.
When I review programs, I prefer to download them directly from the developer's website as opposed to other download sources like Softpedia or Download.com. I did the same with APP-BLOCKER. The only problem? Apparently the download from the developer's website is corrupted. Every time I tried to download APP-BLOCKER (v2013.2, 19.1MB) from the developer's website), I got an error message telling me the file is corrupted when I went to install. At first I thought maybe my internet connection was screwing with me and didn't properly download the file, so I downloaded the file multiple times. Each time the same thing happened, and I made sure I had no connectivity or downloading issues.
Softpedia had the same corrupted APP-BLOCKER installer, but I was eventually able to download a non-corrupted APP-BLOCKER from Download.com (v2013, 16.2MB).
CONCLUSION AND DOWNLOAD LINK
Abylon APP-BLOCKER is a terrible program. Not only does it lack features found in other freeware and shareware programs — such as the ability to delay startup programs/processes and the ability to be minimized to system tray — but it has a terrible interface (which makes the program confusing to use) and is buggy. My recommendation? Save your time and effort, and stay away from this program.
Instead of Abylon APP-BLOCKER, there are multiple freeware programs you can use to get the same plus more functionality:
Grab any of the just-mentioned programs instead of APP-BLOCKER and you will be happy. Trust me.
Price: 19.95 euros

Version reviewed: 2013
Supported OS: Windows XP/Vista/Win7/Win8

Download size: 16.2MB

VirusTotal malware scan results: 0/46

Is it portable? No

Related Posts