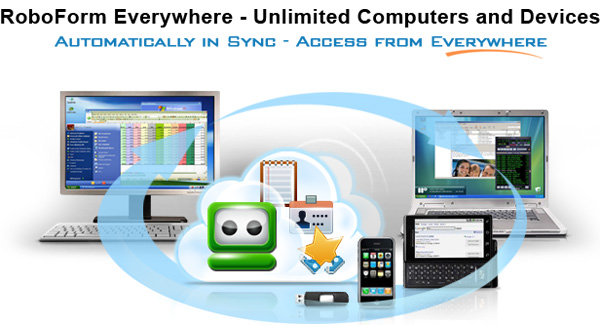 Software Description
The following is a description of RoboForm Everywhere, as per the developer:
Overview

Easy Logins

It's now easier than ever to login to your favorite websites and applications. RoboForm makes the process effortless by automatically saving, then entering your usernames and passwords. Simply click and login-similar to a browser bookmark! You'll never need to remember or type another password again.

Fill Forms Fast

Use our RoboForm Identities feature to securely store your name, address, email, credit cards, and all other personal information. Just click on your RoboForm Identity to fill entire web forms automatically. Save yourself hours of needless typing!

Access From Everywhere

Access your RoboForm Logins and Identities on all your computers and devices. RoboForm runs on Windows, Mac, Linux, and Windows USB drives. We also have apps for most popular mobile phones including the iPhone, Android, and Blackberry. Use our RoboForm Everywhere (Online) service to synchronize and back up your data with our servers, and enjoy secure one-click form access everywhere!
dotTech Advice
I love RoboForm. I have been using RoboForm for years. Ever since I got it for free via TrialPay – and recently paid to upgrade to the latest v7 – I have been heavily dependent on its excellent ability to store my logins and give me easy access right within my browser.
I have always used RoboForm Pro, the desktop version. RoboForm Everywhere is RoboForm's cloud edition; it is the version of RoboForm that syncs and allows you access to your logins (and whatever else you store with RoboForm) not only across browsers but computers and mobile devices (Windows, Mac OS X, iOS, and Android are the supported platforms). The catch to RoboForm Everywhere is that it isn't a one-time purchase — you must purchase yearly licenses, which regularly cost $19.95/year. As I said, RoboForm is great and I love RoboForm. However, $19.95/year is a fairly steep price when LastPass – a competitor to RoboForm which has a free version that syncs across computers but doesn't support mobile devices unless you go Pro – will do the same and more (LastPass supports more mobile platforms) for $12/year.
Now you must be thinking to yourself: "Ashraf are you mad? This article is about a freebie. Why are you talking about price?" Firstly, yes some people consider me to be mad. Secondly, this freebie is of a six months license of RoboForm Everywhere. After those six months if you don't purchase RoboForm Everywhere you lose all the data (logins, etc.) you stored in RoboForm Everywhere. You should be able to export the data before the license expires so you don't necessarily lose the data forever; but my point is using a password manager for six months only isn't practical. So RoboForm is great, yes; but RoboForm Everywhere is overpriced. You should only get this freebie if you want to use it as a stepping-stone towards purchasing extended licenses for RoboForm Everywhere. Otherwise don't bother.
If you decide to skip out on RoboForm Everywhere, RoboForm itself has a free version you can try but note it has very limited features; LastPass, as already mentioned, has an excellent free password/data management service; KeePass is a free open-source password manager for your computer; and if you are an Android user you can read my Best Free Password Manager article to learn more about what to use on Android.
Freebie Details
RoboForm Everywhere is being given away in a 24-hours promotion by BitsDuJour. This promotion ends 23:59 Pacific Standard Time Wednesday March 21, 2012. I don't know if there is a shelf-life for this license or if you can stack with your purchased RoboForm Everywhere licenses.
To get RoboForm Everywhere for free, do the following:
Version being given out for free: v7.x
Free updates: No
Free technical support: Unknown
Supported OS: After setup you can run RoboForm Everywhere on Windows, Mac OS X, Android, and iOS. However, setup should be done on a Windows or Mac, first.

Download size: Varies depending on which platform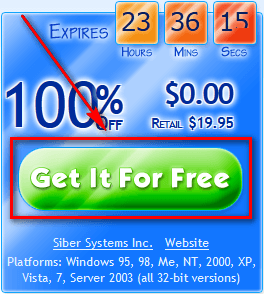 Fill out the form on the next page and click Complete Checkout: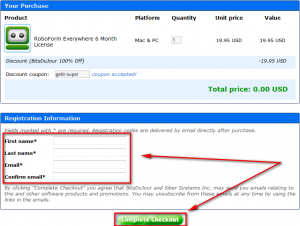 Now check the inbox of the e-mail address you registered with. Look for an e-mail from BitsDuJour notify@bitsdujour.com with subject of BitsDuJour Software Receipt – RoboForm Everywhere 6 Month License. In this e-mail you will find your registration code — copy it: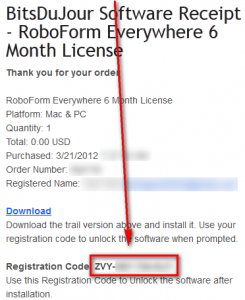 Download and install RoboForm Everywhere. Take note during installation to select "RoboForm Everywhere".
Once RoboForm Everywhere is installed and running, visit http://batch.roboform.com in your browser, input the registration code you copied earlier, and hit SUBMIT:

At the next page fill out your information and hit SUBMIT: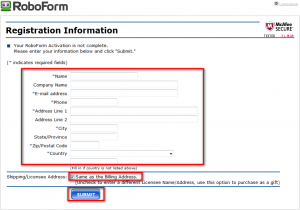 Finally you will be shown a page which gives you your order number — copy the Order ID: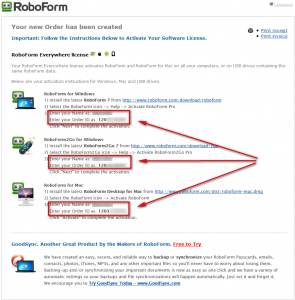 Now right-click on the Roboform icon from your system tray, go to Help -> Activate Roboform Pro (or just Activate Roboform if you are on Mac), input your name and order ID, click Next, and you are good to go: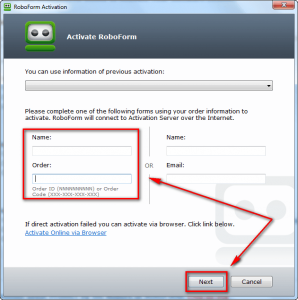 Done! You can start using RoboForm Everywhere. To get RoboForm Everywhere on your mobile devices or other computers, visit the downloads page. You will have to activate using your name and order ID for every device you install RoboForm Everywhere on.
If you have trouble getting six months of RoboForm Everywhere for free, post below and other dotTechies or I will try to help.
Related Posts