Windows has hundreds of thousands of programs. Because of this great volume and lack of a central store, software discovery (aka finding new and useful programs) is extremely difficult. With our Windows Software of the Day initiative, dotTech aims to change that. Everyday we post three programs, allowing our readers to discover new software, daily. Enjoy! [Subscribe to our Windows section to never miss an article: RSS Feed | E-mail]
Developers: Click here to get your apps featured here!
dotTechies: Want to see an app on here? Send us a tip!
Software for March 22, 2012
Audials Light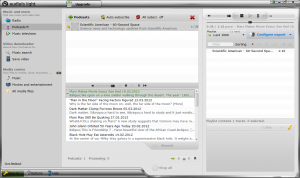 Listening to the radio, podcasts, or music videos on your computer can be almost painful at times. First you need to spend ten minutes Googling your local station's name, then when you want to listen to your favorite podcasts you need to open up iTunes and wait for it to slowly sync. Audials Light attempts to solve this problem by combining all these features under one software roof, and does a fairly good job.
While it doesn't look as beautiful as some programs, it's still quite functional and allows you to download and record radio and podcast broadcasts. It also offers more advanced features like an Android app and a personal cloud for your computers.
Price: Free!

Version discovered: v9.1.11700.0

Supported OS: Windows XP SP2/Vista/7

Download size: 75.6MB

Malware scan: N/A – filesize too big for VirusTotal

SumatraPDF
Have you heard about Adobe PDF Reader? Of course you have. It has a, erm, reputation.
Now meet SumatraPDF. It's the antithesis of Adobe Reader: it's lightweight, fast, and not crashy. It even integrates into your browser through an optional plugin! And, although it's mainly a PDF reader, it can also read "XPS, DjVu, CHM, Comic Book (CBZ and CBR)" files. It also supports a vast array of keyboard shortcuts, making it the perfect reader for power users.
Note however that as of the most recent version editing forms and adding comments are not yet implemented.
Price: Free!

Version discovered: v1.9

Supported OS: Windows XP/Vista/7

Download size: 4.5MB

Malware scan: VirusTotal scan results 1/43

Windows xKill
Firefox is frozen. Windows will now fruitlessly attempt to recover nothing of value.
Instead of waiting a while to just be told Windows can't do anything about your frozen apps, put them out of their

misery in seconds. Like the *nix xkill program, Windows xKill will kill any open window you click on. And that's it! It's extremely simple, extremely quick, and extremely lightweight.
Price: Free!

Version discovered: not listed

Supported OS: Windows (unknown)

Download size: 17.9KB

Malware scan: VirusTotal scan results: 0/43

dotTechies: We have tested all the software listed above. However, Windows Software of the Day articles are not intended as "reviews" but rather as "heads-up" to help you discover new programs. Always use your best judgement when downloading programs, such as trying trial/free versions before purchasing shareware programs, if applicable.
Related Posts