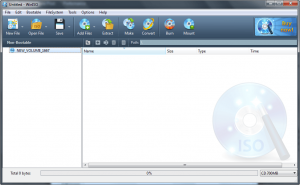 Note: A giveaway of WinISO Standard was originally posted in Feb-12. That giveaway has ended and a new giveaway of the same software is available. Sorry for whoever receives double notifications!
Software Description
The following is a description of WinISO, as per the developer:
WinISO is a professional CD/DVD/Blu-ray Disc image file utility tool that you can open, create, edit, extract, mount, convert ISO files and other image file formats. It can also make bootable CD/DVD/BD and burn ISO image file to CD/DVD/Blu-ray Disc. Furthermore, it's capable of processing almost all CD/DVD/BD image files, including ISO and BIN. WinISO provides a comprehensive solution. You can handle the ISO image files as you wish.

Open and edit ISO files
Extract ISO files and CD/DVD/Blu-ray Disc image files
Convert image files between ISO/BIN and other formats
Burn ISO image file to CD/DVD/Blu-ray Disc and burn image files on-the-fly
Backup CD/DVD/BD to image files from CD/DVD/BD Driver
Make bootable CD/DVD/Blu-ray Disc
Mount ISO image files
Support Input Files & Devices
Image File: ISO, BIN / CUE, DMG, NRG, UIF, HFS, DAA
Devices: CD Disc, DCD Disc, Blu-ray Disc
Support Output File Formats
dotTech Advice
WinISO is a program that offers full range of features for users who work with and/or manipulate disc images (ISOs, BINs/CUEs, DMGs, etc.) such as open, edit, create, mount, extract, and convert disc images.
I didn't spend a lot of time with WinISO so it wouldn't be just for me to comment on its quality (i.e. I am not saying if it is good or bad) or make any explicit recommendations (i.e. I am neither recommending it nor not recommending it). That being said, however, WinISO definitely looks like an interesting program. It isn't one of those program that you except to use everyday (unless, of course, you work with disc images regularly in which case you may be using WinISO daily) but it is one of those programs that is very useful once you need it… if that makes any sense. I especially like its ability to edit, extract, and convert disc images.
My best advice on this freebie is download it and give it a test run. If you like it, keep it for future use. If you don't like it, dump it. What have you got to lose, aside from a few moments of your time?
Note: Anyone that got WinISO Standard from the earlier DownloadCrew promotion in February should grab this freebie from Giveaway of the Day. Whereas the DownloadCrew giveaway was for 1 year only, this GOTD giveaway is never expiring. You don't need to reinstall WinISO Standard if this is the case for you. Just go to Help -> Register -> Change Registration Code and enter the new registration code.
Freebie Details
WinISO Standard is being given away in a promotion by the Giveaway of the Day. The promotion is live until Thursday 22 March 2012 23:59 Pacific Standard Time; you must install and register during these 24 hours.
To get WinISO Standard, do the following:
Version being given out for free: v6.1.0.4463
Free updates: Unknown

Free technical support: Unknown

Supported OS: Windows XP/Vista/Win7

Download size: 7.16 MB
Download the giveaway ZIP file.
Extract the ZIP file and you should see three files in there — Readme.txt, and Setup.exe. Open Readme.txt and copy the registration code: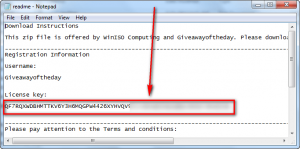 Now run Setup.exe. Make sure you have a valid Internet connection at the time and wait while the installer checks to make sure the giveaway is still live. Once the installer confirms the giveaway is still live, the installer of WinISO Standard will launch. Follow on-screen instructions to install WinISO Standard: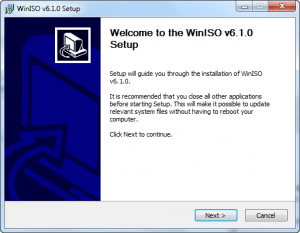 After installation WinISO Standard finishes, the Giveaway of the Day installer will popup again — click Close (unless you want to install an optional third-party program Software Informer, in which case click Software Informer):
Run WinISO Standard if it isn't running already and register it with the serial code you were copied. If you are confused on how to do that, these screenshots show you — follow the red boxes, arrows, and text:
If you have trouble getting WinISO Standard for free, post below and other dotTechies or I will try to help.
Related Posts