Software Description
The following is a description of Paragon Partition Manager Personal 11, as per the developer:
Complete Functionality

Full set of partitioning operations
Latest software & hardware support
Copy, defragmentation & boot management
Two-level user interface: Easy & Advanced
Recovery media on a CD/DVD/USB-Stick

Safety of Critical Operations

The only solution with backup functionality to provide data loss free operation
Powerful Recovery Media against a hardware malfunction or OS failure

15 Years of Expertise

Paragon Hot Resize technology to enlarge partitions without rebooting Windows
Paragon Smart Partition technology to securely perform partitioning operations
Paragon Power Shield technology to provide data consistency
dotTech Advice
dotTech reviewed Paragon Partition Manager Personal 11 in July 2010. We recommended the product with the following final verdict:
For the bare necessities of partition management, any of the partition managers listed under "Free Alternatives" [in the review] will do. However, Paragon Partition Manager Personal is a good program and has some features that make it stand above the crowd, such as support for USB bootable media. I give it a thumbs up and recommend it to anyone that needs it. (Although, if you do get PPMP, I would consider a different program – such as Macrium Reflect – for your image backing up needs because the backup feature is a bit too basic in PPMP.)
Freebie Details
Paragon Partition Manager Personal 11 SE is being given away in a promotion by DownloadCrew. The promotion is 24-hours only. You need to get your serial code and download the program within these 24-hours but you can install/register the program at any later date in the future.
Take note Paragon Partition Manager Personal 11 SE is "Special Edition". It is fully functional as the commercial/shareware/full edition except it does not have WinPE-based bootable media; it does have Linux-based bootable media, though.
To get Paragon Partition Manager Personal 11 SE, do the following:
Version being given out for free: v11
Free updates: Unknown
Free technical support: Unknown
Supported OS: Windows XP/Vista/Win7 (32-bit and 64-bit)

Download size: 112 MB
Giveaway limitation: This is for personal use only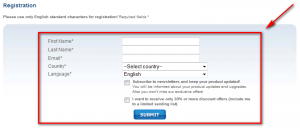 Hit the SUBMIT button when you have entered all the relevant information.
After hitting the SUBMIT button you will be taken to the following page:
Close this page — you don't need it.
Check the inbox of the e-mail address you entered. Look for an e-mail from eservice@paragon-software.com with subject of Your Product Registration for Paragon Partition Manager 11 Personal Special Edition – Covermount (English). In the e-mail are your registration details:

Keep the product key and serial number safe because you will need to use them very soon.
Visit the promotion page and hit the Download button to begin downloading Paragon Partition Manager Personal 11 SE:
After the download finishes, run the file you downloaded to install Paragon Partition Manager Personal 11 SE. Once the installer launches, enter the registration details you received earlier…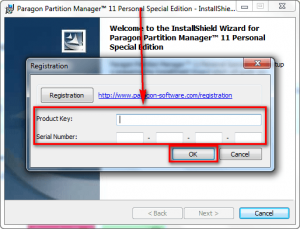 …and install the program like normal.
That's it. You can now start using Paragon Partition Manager Personal 11 SE. Enjoy!
If you have trouble getting Paragon Partition Manager Personal 11 SE for free, post below and other dotTechies or I will try to help.
Related Posts