The other day at work I overhead the following conversation:
Person1 with a new laptop that has not been connected to the wireless network yet:

"Do you know what the password is to the wireless Internet?"

Person2 with an older laptop that is connected to the wireless network:

"No I don't remember. It is so long and confusing here – it is hard to remember."
Now that I think back to that moment, I wish that I had known about WirelessKey View (I just recently found out about it while I was roaming Nirsoft's website). WKV is a splendid little tool that allows you to view the password/key of the wireless network (WEP/WPA only) your computer is connected to: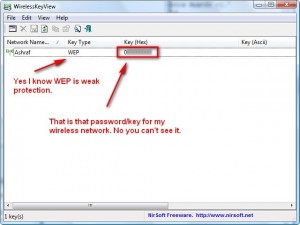 Actually I should clarify. WKV reveals the password/key of all the networks you have connected to in the past (as long as you still have that network information stored on your computer which you should unless you specifically deleted it). However there is one small catch to this program: WKV can only retrieve the password/key of networks that were stored using Windows wireless connection service ('Wireless Zero Configuration' service for Windows XP and 'WLAN AutoConfig' service for Windows Vista). In other words if you used, for example, Linksys Network Monitor to connect to your network instead of Windows then WKV will not be able to find the password/key (I just tested it on my desktop to make sure of this fact). This problem will usually only occur with desktops (because when people install wireless adapters on their desktops they are likely to install the software that comes with the adapter) seeing as most laptops come with built in wireless cards and they use Windows wireless connection service.
WKV is a standalone portable application so all you have to do is unzip it and run the EXE file – no installation required. You can download WKV from the following links:
32-bit: WirelessKeyView
64-bit: WirelessKeyView
Related Posts