Windows has hundreds of thousands of programs. Because of this great volume and lack of a central store, software discovery (aka finding new and useful programs) is extremely difficult. With our Windows Software of the Day initiative, dotTech aims to change that. Everyday we post three programs, allowing our readers to discover new software, daily. Enjoy! [Subscribe to our Windows section to never miss an article: RSS Feed | E-mail]
Developers: Click here to get your apps featured here!
dotTechies: Want to see an app on here? Send us a tip!
Software for March 24, 2012:
USB Write Protect
USB Write Protect is a tiny little program that disables thumb drive write access on your computer. If you've ever needed to give a prankster your computer to use with a thumb drive in it, this program would help: no more pesky deleting! (And you can even set a password so they can't change it themselves.) It's also great if you're prone to make mistakes when managing your files.
However, it's not all fun and games. USB Write Protect works by telling Windows, not your thumb drive, to disable write access, meaning you can still plug your drive into another computer and change files. On Windows 7, you'll also need to reinsert your drive after you disable write access, or it won't take effect.
Even with these downsides, however, it's still a useful piece of software to keep on hand for an emergency, and weighing in at just a couple dozen kilobytes, it's not a space hog either. You can even keep it on your thumb drive!
Price: Free!

Version discovered: v2.0.0

Supported OS: Windows XP/Vista/7

Download size: 65.9KB

Malware scan: VirusTotal scan results 0/43

4t Tray Minimizer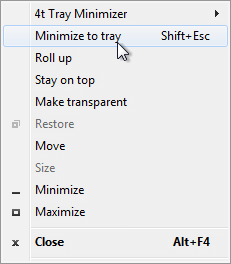 Some applications love to leave themselves in your taskbar and Alt-Tab screen. If you're a big multitasker, you can have dozens of programs open at once, and having to skip through windows you want hidden windows. In addition to minimizing windows to the tray, 4t Tray Minimizer can also roll up windows, make them transparent, or make them stay on top.
Windows can be controlled using the buttons added to the standard Windows control scheme in the upper right (minimize, restore/maximize, and close), as shown below. For windows that don't use standard Windows controls, 4t offers the ability to control via the right click menu, as shown at left.
Of course, just because you can minimize windows to the tray doesn't mean you should. You might end up having a few too many windows and end up with a laggy computer.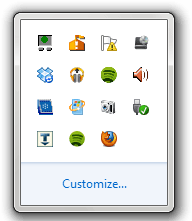 Upgrading to the Pro version of 4t allows you to automatically minimize certain apps, and to add certain buttons to certain apps. It also allows custom keyboard shortcuts and a few more small things like permanent tray icons.
Price: Free, with $19.95 Pro version

Version discovered: v5.52

Supported OS: Windows XP/Vista/7

Download size: 1.4MB

Malware scan: VirusTotal scan results 0/43

Everything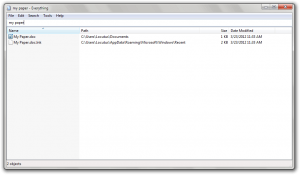 Windows search is one of the slowest search tools I've seen. Even in Windows 7, it still takes me less time to find something on a server 8000 miles away using Google than a small file five inches away on my hard drive.
While Windows search is slow, that does not mean all searches for Windows are slow. Meet Everything. It's a tiny, tiny program that has all the real-time indexing capabilities you want, while still remaining quite fast. It has a simple interface but still throws in cool features like regex support and ETP server support. It can build its search database in seconds by searching literally everything and by only indexing file names.
One of the only downsides to Everything is that, unless you use a special trick to start it, it'll throw a UAC prompt on start. However, that's easily fixed and is very outweighed by the positives.
Price: Free!

Version discovered: v1.2.1.371

Supported OS: Windows 2000/XP/Server 2003/Vista/Server 2008/7

Download size: 344KB

Malware scan: VirusTotal scan results 0/43

dotTechies: We have tested all the software listed above. However, Windows Software of the Day articles are not intended as "reviews" but rather as "heads-up" to help you discover new programs. Always use your best judgement when downloading programs, such as trying trial/free versions before purchasing shareware programs, if applicable.
Related Posts