Software Description
The following is a description of Photopus Standard, as per BitsDuJour:
Enjoy Powerful and Affordable Photo Editing

You have hundreds of vacation photos that you're just dying to upload and share with the world, but you want to make sure that they're the peak of perfection first. Instead of spending hundreds of dollars on professional graphics editing software, why not get all of the photo editing functions that you really need in today's discount software promotion, Photopus Standard?

Photopus Standard is ideal for photo conversion, resizing, touch-ups, and special effects! With Photopus Standard, you'll be able to apply your own signature style to hundreds of images in batch, saving the time and tedium of doing so manually. Take resizing and rotation, for example – with Photopus Standard, you can automatically resize to a number of presets, or automatically orient your photos as portrait or landscape. Then, use Photopus Standard to adjust brightness and contrast, sharpen, or add color balance touches to thousands of images at once.

Need to convert a bunch of photos to a different image format quickly? Photopus Standard saves the day, with the ability to convert between over 90 different image formats. You can even use Photopus Standard to create multi-page PDF files from your images, for quick and easy distribution on a universal platform.
dotTech Advice
As I'm sure all of you know by now, photo editing isn't my cup of coffee. As such, there is no advice I have to give on Photopus Standard. Do take note, however, Photopus comes in two editions — Photopus (Standard) and Photopus Pro: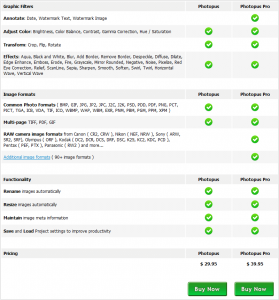 This giveaway is of Photopus Standard (refereed to as just "Photopus" in the image above) that normally costs $29.95.
If you miss out on this giveaway, good freeware image editors include GIMP, Paint.NET, and RealWorld Paint.
Freebie Details
Photopus Standard is being given away in a promotion by BitsDuJour. This promotion is live for 24-hours (ends 23:59 Pacific Standard Time Saturday March 24, 2012). You need to grab your registration code during these 24-hours but you should be able to install/reinstall at any time in the future.
To get Photopus Standard for free, do the following:
Version being given out for free: v1.1
Free updates: Unknown
Free technical support: Unknown
Supported OS: Windows 7, Vista, XP, 2000, 2003, 2008
Download size: 8.2 MB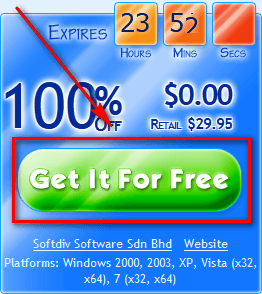 Fill out the form on the next page and click Complete Checkout: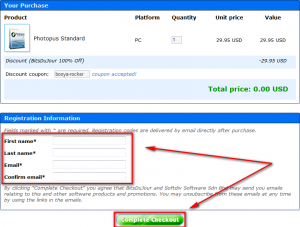 Now check the inbox of the e-mail address you registered with. Look for an e-mail from BitsDuJour notify@bitsdujour.com with subject of BitsDuJour Software Receipt – Photopus Standard. In this e-mail you will find your download link — click on it to download Photopus Standard: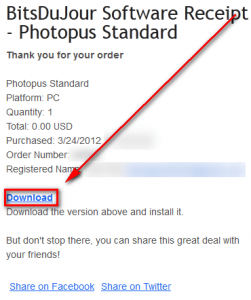 After the download finishes, install Photopus Standard.

There is no registration required; it comes "pre-registered".

Done. Enjoy!
If you have trouble getting Photopus Standard for free, post below and other dotTechies or I will try to help.
Related Posts