Windows has hundreds of thousands of programs. Because of this great volume and lack of a central store, software discovery (aka finding new and useful programs) is extremely difficult. With our Windows Software of the Day initiative, dotTech aims to change that. Everyday we post three programs, allowing our readers to discover new software, daily. Enjoy! [Subscribe to our Windows section to never miss an article: RSS Feed | E-mail]
Developers: Click here to get your apps featured here!
dotTechies: Want to see an app on here? Send us a tip!
Software for March 26, 2012
tinySpell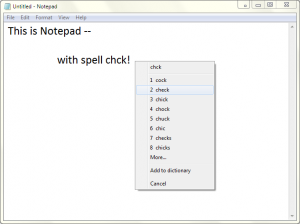 Does it ever annoy you when you're typing something up in a program without spell check and you can't figure out if you're spelling a word right? Be annoyed no more! With tinySpell you can automatically check the spelling both in any program and when you copy text to the clipboard.
When you start typing, tinySpell will constantly monitor every word for spelling errors. When it finds one, it will beep and a little menu will appear. That menu will most often have the correct spelling of whatever you want to spell.
Truthfully, the omnipresent yellow notification windows can be a bit distracting and the beep a little annoying. Luckily, tinySpell makes it very easy to disable spell check: just right click on the tray icon and click Disable tinySpell. While not something you'd use every day, as a portable app, tinySpell is great to carry around for use at a moment's notice.
Price: Free!

Version discovered: v1.9.40

Supported OS: Windows 2000/XP/Vista/7

Download size: 625KB installer, 601KB zip

Malware scan: VirusTotal scan results 0/43

Sticky Notes Taskbar Hider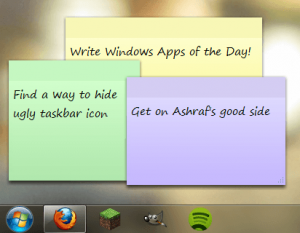 This is a very niche program, but is still quite useful for those it's made for: you can hide the sticky notes taskbar icon while keeping the sticky notes open!
In the picture to the left, you'll notice the only program I have open is Firefox. Normally, with all those stickies open, I'd be treated to an unnecessary and somewhat useless sticky notes icon. And, with SNTH, I can use a simple keyboard shortcut to disable and re-enable it all the time.
This super simple app fulfills a purpose without being too bloated and without being overly complex. It's great!
Price: Free!

Version discovered: v1.91

Supported OS: Windows 7
Download size: 2.1MB

Malware scan: VirusTotal scan results 0/43

Sticky Notes Taskbar Hider homepage
inSSIDer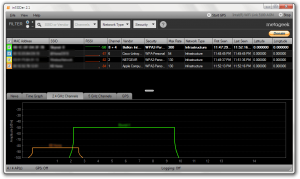 If your wifi is a bit slow, it could be that the channels it's on are already occupied. While generally, multiple signals can occupy the same space, it can cause small issues and make your experience less fun. With inSSIDer, you can quickly glance at information about the networks around your area and even look at networks in your general area.
Along with showing you which channels have the most networks, inSSIDer also shows the security and strength of each network. From this, you can tell which channels your wireless network might be the best on, and how well secured yours and your neighbor's networks are.
Price: Free!

Version discovered: v2.1.1.13

Supported OS: Windows XP/Vista/7

Download size: 1.7MB

Malware scan: VirusTotal scan results 0/43

dotTechies: We have tested all the software listed above. However, Windows Software of the Day articles are not intended as "reviews" but rather as "heads-up" to help you discover new programs. Always use your best judgement when downloading programs, such as trying trial/free versions before purchasing shareware programs, if applicable.
Related Posts