Windows has hundreds of thousands of programs. Because of this great volume and lack of a central store, software discovery (aka finding new and useful programs) is extremely difficult. With our Windows Software of the Day initiative, dotTech aims to change that. Everyday we post three programs, allowing our readers to discover new software, daily. Enjoy! [Subscribe to our Windows section to never miss an article: RSS Feed | E-mail]
Developers: Click here to get your apps featured here!
dotTechies: Want to see an app on here? Send us a tip!
Software for March 28, 2012
FlashCookiesView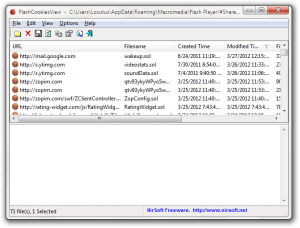 If you're privacy-minded, you probably delete your cookies often and have 3rd party cookies turned off. No one can blame you, that tracking stuff can be downright creepy.
But lurking in your system files are cookies that not even your browser can detect: the evil Flash cookies. These cookies are a lot like regular cookies, but they're created by Adobe Flash, not your browser. FlashCookiesView to the rescue: it can display these Flash cookies, generate reports about them, and even delete them!
FlashCookiesView is a really simple tool. Other than deleting cookies, its main task is to give you basic information about them. It's really that simple!
Price: Free!

Version discovered: v1.12

Supported OS: Windows 2000/XP/Server 2003/Vista/Server 2008/7

Download size: 44.5KB

Malware scan: VirusTotal scan results 0/43

WinMerge
You've got myCode.cpp and myCoolCode.cpp. Which is the one to delete, and which is the one to check into source control by tomorrow!? If only you had a program like WinMerge to show you the differences in the two files.
WinMerge is a seemly simple program with plenty of features packed in beneath the surface. When comparing text files, it'll quickly highlight all the modified lines in one color and the specific modifications in another. Essentially it highlights the differences between the two files that are being compared.
However, WinMerge also supports folder comparison. When you load up two folders, it'll generate a list showing which files are unique to which folder, whether the files are the same in each folder, and the various dates the files were saved/modified in each folder. It's packed with features and I've probably barely begun to scratch the surface.
Price: Free!

Version discovered: v2.12.4

Supported OS: Windows 98/ME/2000/XP/2003/Vista/2008

Download size: 3.1MB

Malware scan: VirusTotal scan results 0/43

CustomExplorerToolbar
File > New Folder. Edit > Undo. Whose idea was it to make all of these things under menus again after keeping them on the toolbars for so long!? If you want your toolbar icons back in Windows Explorer, this Nirsoft program will do just that in just seconds.
The best part about CET is that you don't always need to have these icons shown: you can set a different set of icons (such as delete, copy, and paste) to show when you have files selected and a different set of icons (such as New Folder, Undo, and Redo) to show when you don't have files selected.
If you feel like adding more icons to your Explorer toolbar, then CustomExplorerToolbar is definitely the program for you.
Price: Free!

Version discovered: v1.05

Supported OS: Windows 7

Download size: 146KB

Malware scan: VirusTotal scan results 0/43

CustomExplorerToolbar homepage
dotTechies: We have tested all the software listed above. However, Windows Software of the Day articles are not intended as "reviews" but rather as "heads-up" to help you discover new programs. Always use your best judgement when downloading programs, such as trying trial/free versions before purchasing shareware programs, if applicable.
Related Posts