Software Description
The following is a description of ScanMyReg, as per the developer:
ScanMyReg is the fastest and most effective registry optimization utility in the market. it scans the Windows registry and finds incorrect or obsolete information in the registry. By fixing these obsolete information in Windows registry, your system will run faster and error free. it also defragments the registry, keeping it streamlined for smoother system performance. The backup/restore function of the tool let you backup your whole Windows Registry so you can use it to restore the registry to the current status in case you encounter some system failure.
dotTech Advice
ScanMyReg is by YL Computing, the same developer behind the popular WinUtilities. Anyone that has used WinUtilities knows it is a good program. Does ScanMyReg match the bar set by WinUtilities? Well in terms of features I'd say ScanMyReg has most of its bases covered. ScanMyReg has the ability to clean/fix registry errors and defrag the registry. In addition, it can make full backups of the registry and has the ability to create "Restore Points" (not to be confused with Windows System Restore Points) which allow users to undo any registry fixing that occurred.
I ran a scan with ScanMyReg and it appears to be a fairly aggressive cleaner; it found 382 "errors" which is almost two times what CCleaner found. Of course, as I have said in the past, a registry cleaner is not better or worse than the competition based on how many errors it finds; it is how safely and accurately the cleaner cleans your registry that makes it quality or not. I did a quick spot check of the list of errors ScanMyReg found and every error I checked turned out to be a valid error. Combine that with the fact that ScanMyReg gives ample details on what errors are (allowing users to select or unselect errors for fixing), the built-in backup capabilities, and the reputation of the developer and I'd say ScanMyReg appears to be safe although time will be the real decider. (Note: No registry cleaner is 100% safe.) The issue I have with ScanMyReg is that it messes with the registry.
I used to be a fan of cleaning the registry. However, as time has passed I've come to realized there isn't much of an advantage to cleaning or defragging the registry. Does it save hard drive space? Yeah, but only a minimal amount seeing as how small the registry is. Does it make your computer run faster? Maybe — if your computer is really screwed up to begin with. In fact I've yet to see a conclusive study showing that cleaning or defragging the registry has a positive impact on computer performance. All I see are software companies, who are trying to sell us registry cleaners, claiming how well they work. I'm not saying registry cleaners/defraggers don't work. I'm saying the potential for screwing up your computer, in my opinion, out weighs any potential benefits a registry cleaner/defragger has. Indeed I don't even use CCleaner's registry cleaner anymore.
If you want to grab ScanMyReg and give it a go, be my guest. I, however, stay away from software that claim to boost performance by cleaning or defragging the registry and unless you have a really messed up computer (maybe you have an old computer on which you install/uninstall lots of program and have a bloated registry as a result), I'd suggest you do the same. If it ain't broke, don't fix it.
Freebie Details
ScanMyReg is being given away in a promotion by the Giveaway of the Day. The promotion is live until Wednesday 28 March 2012 23:59 Pacific Standard Time; you must download and register during these 24 hours.
To get ScanMyReg, do the following:
Version being given out for free: v2.0
Official free updates: No

Official free technical support: No

Supported OS: Windows 2000/XP/Vista/Win7/Win8

Download size: 4.04 MB
Giveaway limitation: This is for personal use only
Download the giveaway ZIP file.
Extract the ZIP file and run Setup.exe. Make sure you have a valid Internet connection at the time and wait while the installer checks to make sure the giveaway is still live. Once the installer confirms the giveaway is still live, the installer of ScanMyReg will launch. Follow on-screen instructions to install ScanMyReg: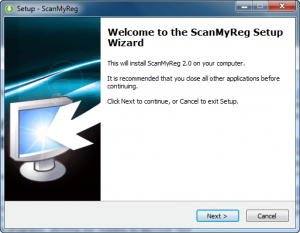 After installation of ScanMyReg finishes, the Giveaway of the Day installer will popup again — click Close (unless you want to install an optional third-party program Software Informer, in which case click Software Informer):
After that, you are done. ScanMyReg comes "pre-registered" so there is no need to input any registration code; you can start using it. Enjoy!
If you have trouble getting ScanMyReg for free, post below and other dotTechies or I will try to help.
Related Posts