Windows has hundreds of thousands of programs. Because of this great volume and lack of a central store, software discovery (aka finding new and useful programs) is extremely difficult. With our Windows Software of the Day initiative, dotTech aims to change that. Everyday we post three programs, allowing our readers to discover new software, daily. Enjoy! [Subscribe to our Windows section to never miss an article: RSS Feed | E-mail]
Developers: Click here to get your apps featured here!
dotTechies: Want to see an app on here? Send us a tip!
Software for April 1, 2012
Defraggler
Creeeeeeak.
That's the sound of your computer's hard drive slowly spinning up and locating the other half of a file. Fragmentation can be a real issue sometimes and it can slow down your computer considerably.
Defraggler, from the makers of CCleaner, is an easy-to-use defragmenter that lets you both do a quick defrag and a longer, more thorough defrag. It'll additionally list every single fragmented file, and even allow you to search that list by both filename and size.
Defraggler is a great little utility to keep in your toolkit and is another tiny gem.
Price: Free!

Version discovered: v2.0.9

Supported OS: Windows XP/2003/Vista/7

Download size: 3.4MB

Malware scan: VirusTotal scan results 1/41

WhatInStartup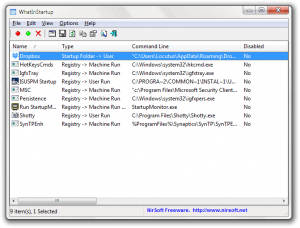 Booting your computer means loading dozens of services and apps every time. If you try out a lot of software, this can get rather annoying very fast, and Windows' built-in MSConfig tool is rather lacking and hard to use.
WhatInStartup is another NirSoft utility that helps you manage your startup software easily. It tells you basic information, like the executable that is run the type of startup it is. It also lets you Google both executable and product names.
When you've decided to disable an item, you can just right click it and either disable it or even delete it. WhatInStartup is an easy to use startup manager that's both free and tiny.
Price: Free!

Version discovered: v1.33

Supported OS: Windows 2000/XP/Vista/7

Download size: 50.8KB

Malware scan: VirusTotal scan results 0/43

Auto Logon & Lock
My computer is around five minutes from hitting the power button to fully booted. However, in the middle of all this speedy wonderness, I have to come back and type in my password. This can add anywhere from 30 seconds to another several minutes to boot time, and afterwards Windows still has to load my startup items.
Auto Logon & Lock is a toolkit that skips the login process on first boot. It's great if you don't have anything too valuable on your computer and you don't take your computer out, because it means a much faster boot time.
It provides step-by-step instructions for setting up automatic login and is generally a quick and easy process.
Price: Free!

Version discovered: v1.0

Supported OS: Windows Vista/7

Download size: 44.0KB

Malware scan: VirusTotal scan results 1/43

dotTechies: We have tested all the software listed above. However, Windows Software of the Day articles are not intended as "reviews" but rather as "heads-up" to help you discover new programs. Always use your best judgement when downloading programs, such as trying trial/free versions before purchasing shareware programs, if applicable.
Related Posts