Windows has hundreds of thousands of programs. Because of this great volume and lack of a central store, software discovery (aka finding new and useful programs) is extremely difficult. With our Windows Software of the Day initiative, dotTech aims to change that. Everyday we post three programs, allowing our readers to discover new software, daily. Enjoy! [Subscribe to our Windows section to never miss an article: RSS Feed | E-mail]
Developers: Click here to get your apps featured here!
dotTechies: Want to see an app on here? Send us a tip!
Software for April 2, 2012
Speccy
Another day, another tool for listing your system information. However, Speccy has a unique twist that not many system stats programs provide: the temperatures of your components.
Speccy is another utility from the makers of CCleaner. It can give you information about your operating system, such as whether UAC is on and when Windows Updates are scheduled, and information about your hard drive, like the average temperature of your CPU.
It presents all the information you'll need when troubleshooting your computer: motherboard model numbers, PCI slot information, optical drive information, network card information, and much more. Speccy is an easy to use tool that presents a large amount of information while still maintaining a small package.
Price: Free!

Version discovered: v1.16.317

Supported OS: Windows XP/Vista/7

Download size: 4.3MB

Malware scan: VirusTotal scan results 1/42

SuperF4
Firefox is not responding. Ha ha!
Computers get slow as they age. As they get slower, you'll notice more and more applications freezing, and that frozen applications take much longer to close. SuperF4 fixes that with a convenient, kill-it-now keyboard shortcut.
When you start SuperF4, an icon will appear in your taskbar. That's it! Now, whenever you come across an icy cold app just hit Ctrl+Alt+F4 and it'll disappear in the blink of an eye. It also has an xkill mode, which like the popular *nix command, allows you to kill an app just by clicking on it.
SuperF4, like all really awesome programs, is free and open source.
Price: Free!

Version discovered: v1.2

Supported OS: Windows (unknown)

Download size: 126KB

Malware scan: VirusTotal scan results 0/43

MyLastSearch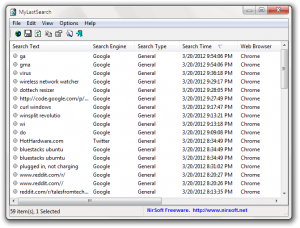 Often you search for something, find it, and then can't find it again weeks later. Looking through your browser history is one option, but often the pages found don't actually include the name of what you were searching for, so you have to go back and redo all your searches.
MyLastSearch is a tool that lets you skip that step by taking you right back to your previous searches. Using your Chrome, Firefox, IE, and Opera browsing histories, it will show you all the things you've previously searched for.
MyLastSearch, a free and tiny NirSoft utility, is a great addition to one's mobile toolkit.
Price: Free!

Version discovered: v1.55

Supported OS: XP/Vista/7

Download size: 56.0KB

Malware scan: VirusTotal scan results 0/42

dotTechies: We have tested all the software listed above. However, Windows Software of the Day articles are not intended as "reviews" but rather as "heads-up" to help you discover new programs. Always use your best judgement when downloading programs, such as trying trial/free versions before purchasing shareware programs, if applicable.
Related Posts