iOS has over 600,000 apps. With so many apps out there, app discovery (aka finding new and useful apps) is extremely difficult. With our iOS Apps of the Day initiative, dotTech aims to change that. Everyday we post three apps, allowing our readers to discover new apps, daily. Enjoy! [Subscribe to our iOS section to never miss an article: RSS Feed | E-mail]
Developers: Click here to get your apps featured here!
dotTechies: Want to see an app on here? Send us a tip!
Apps for April 3, 2012
RSSAnywhere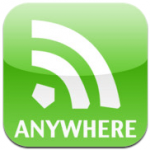 RSSAnywhere is a Google feed reader app that checks your feeds you have assigned in your Google account. You can manage feeds or folders as well as searching feeds by keywords. You can double tap to view full article, view feeds or full articles in an offline environment. You can choose your favorite feeds and download the newest full articles of them and read them in a non WiFi environment.
Version discovered: 1.6

Requires: iPhone/iPod Touch/iPad; iOS 4.2 and up

Download size: 4.7 MB

iBLACKB0ARD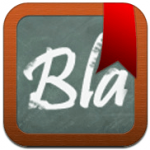 iBLACKB0ARD is a blackboard app that you can draw what you want on something you would remember from being in school. You can draw what you like in either a different size of chalk or even a different color. If you don't like what you want, you can use the eraser and start again. Once you are happy with what you have drawn, you can either save it in your photo library or email it to yourself.
Version discovered: 1.1

Requires: iPhone/iPod Touch/iPad; iOS 3.2 and up

Download size: 3.4 MB

iGameClock Premium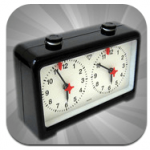 iGameClock Premium is an app that can be used in a tournament or even just a simple gamey of chess with a friend. You could also use this time clock for any other two player games like checkers, othello, backgammon, and many others. You can set all sort of time controls like sudden death, hourglass, Japanese Byoyomi, Canadian overtime, Bronstein delay, Fischer delay, and penalty.
This app also clears the  display that is easy to use, you can set each clock independently, highlights the currently running clock, it also count out the total moves of each player, you can pause and resume the game, and you have the option to turn the sounds on or off.  The app will show who the winner of the game, and it prevents your device from going to sleep so it will stay active. The HD version just looks a little fancier but appears to have the same features as the version that can be used on the iPhone and iPod Touch.
Version discovered: 1.1

Requires: iPhone/iPod Touch/iPad; iOS 4.0 and up – HD: iPad; iOS 3.2 and up

Download size: 2.0 MB; HD: 2.2 MB

iGameClock HD Premium on iTunes
dotTechies: We have tested all the apps listed above. However, iOS Apps of the Day articles are not intended as "reviews" but rather as "heads-up" to help you discover new apps. Always use your best judgement when downloading apps, such as trying trial/free versions before purchasing paid apps, if applicable.
Related Posts