Windows has hundreds of thousands of programs. Because of this great volume and lack of a central store, software discovery (aka finding new and useful programs) is extremely difficult. With our Windows Software of the Day initiative, dotTech aims to change that. Everyday we post three programs, allowing our readers to discover new software, daily. Enjoy! [Subscribe to our Windows section to never miss an article: RSS Feed | E-mail]
Developers: Click here to get your apps featured here!
dotTechies: Want to see an app on here? Send us a tip!
Software for April 4, 2012
BatteryInfoView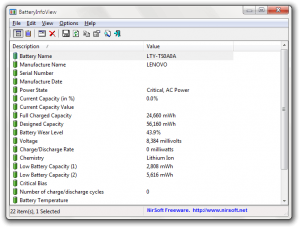 Laptops generally lose battery life after a while. If you want to see how much a battery has lost, however, you'd generally need to learn some complicated commands and find your way around complicated settings pages.
BatteryInfoView is yet another NirSoft utility that makes your computer easy to use. When you fire it up, it'll instantly tell you the wear percentage, as well as the full charge capacity and the original design capacity.
Whether you're giving your laptop to someone else and need to see how well its battery is or just curious about how much charge your computer has lost, BatteryInfoView is a nice little utility to keep around.
Price: Free!

Version discovered: v1.15

Supported OS: Windows 2000/XP/Vista/7

Download size: 113KB

Malware scan: VirusTotal scan results 1/43

Genie Timeline 2012
Backing up your computer is a hassle — and often backup programs themselves are a clunky, horrible mess. Genie Timeline 2012 is a unique departure from the herd, bringing in Microsoft's beautiful Metro interface and making backup no longer a chore but something that is easy to do and takes only seconds to set up.
Genie Timeline starts with a quick, easy wizard for setting up your backup. If you opt for the Pro ($59.95) or Home ($39.95) version, you'll get to choose not only the location of your backup but the stuff to back up and whether to encrypt it or not.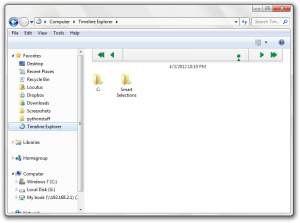 Timeline 2012 also offers a feature called an, erm, timeline. The timeline, as shown to the left, is somewhat akin to Time Machine for Mac OS X. However, it's much less flashy and less of a visual "look what we can do". As you continue to backup your files, Genie Timeline will fill up this timeline and you'll be able to play your data backwards and forwards.
Genie Timeline is an awesome tool, and I'm quite impressed with it. There being a free version of it is quite cool also — backup programs are often quite spendy, and a free version is perfect for those who want to back up without the hassle of too many options and who don't want to manually copy all their files from one place to another every now and again.
Price: Free version with $39.95 Home upgrade and $59.95 Pro upgrade

Version discovered: v3.0.1.200 Pro

Supported OS: Windows XP/Vista/7

Download size: 12.8MB Free/12.8MB Home/12.7MB Pro

Malware scan: 0/40 Free | 0/40 Home | 0/40 Pro

Handy Start Menu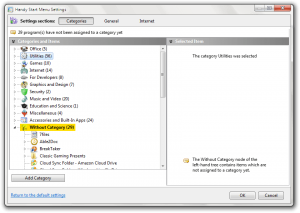 Is your start menu a mess? Does it take you fifteen minutes to find any of your programs? It's time to clean it up with Handy Start Menu.
After installing HSM, you'll notice that your start menu is suddenly automatically split up into categories. You can also customize the programs that weren't automatically added, however: after sorting, your start menu will look even better!
Handy Start Menu is a nice program for cleaning your menu but is sometimes a little glitchy and requires automatic startup to work correctly.
Price: Free!

Version discovered: v1.51

Supported OS: Windows XP/Vista/7

Download size: 5.8MB

Malware scan: VirusTotal scan results 1/43

dotTechies: We have tested all the software listed above. However, Windows Software of the Day articles are not intended as "reviews" but rather as "heads-up" to help you discover new programs. Always use your best judgement when downloading programs, such as trying trial/free versions before purchasing shareware programs, if applicable.
Related Posts