Windows has hundreds of thousands of programs. Because of this great volume and lack of a central store, software discovery (aka finding new and useful programs) is extremely difficult. With our Windows Software of the Day initiative, dotTech aims to change that. Everyday we post three programs, allowing our readers to discover new software, daily. Enjoy! [Subscribe to our Windows section to never miss an article: RSS Feed | E-mail]
Developers: Click here to get your apps featured here!
dotTechies: Want to see an app on here? Send us a tip!
Software for April 8, 2012
CookieSpy
Managing your cookies is an ugly process. While there are products like CCleaner out there, they're more for mass wiping and selecting cookies to keep, while possible, is not that much fun. CookieSpy is an entire application designed specifically to manage cookies.
Want to know what site a cookie is for? Check. The expiration date on your cookie? Check. Data in it? Check. CookieSpy also allows you to read cookies from not only Chrome or Firefox but all five of the most popular browsers: Internet Explorer, Firefox, Chrome, Safari, and Opera. It's great if you want to manage your cookies easily without the use of a cleaning suite like CCleaner.
Note: as this is a ClickOnce installer, it will stick itself in %LOCALAPPDATA%\Apps automatically.
Price: Free!

Version discovered:
Supported OS: Windows (unknown)

Download size: 484KB

Malware scan: VirusTotal scan results 0/42

Sunrise Seven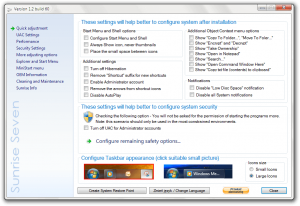 Want Windows to be yours? You'll like Sunrise Seven. As one of the many customization suites that are available, Sunrise Seven allows you to change performance settings, adjust Windows Explorer, and generally tweak Windows to how you want it to be.
Sunrise Seven also includes some lesser-known tweaks, like the ability to change your start orb to a custom image, or one of the 70 built in. It's a nifty little tool that a simple two-paragraph summary simply won't put to justice.
Note: the website for Sunrise Seven is in Polish. To download Sunrise Seven, click on the KLIKNIJ ABY POBRA? WERSJ? DLA WINDOWS 7 x86, x64 button.
Price: Free!

Version discovered: v1.2.61

Supported OS: Windows 7

Download size: 2.6MB

Malware scan: VirusTotal scan results 0/43

ZipInstaller
Oftentimes software is only offered in installer format, while often people want portable apps so they can run them anywhere. But what about the cases where the exact opposite happens, and you want to actually install a program that is only offered as a portable app?
The solution is ZipInstaller. This tiny utility can install anything that's in a ZIP file, and automatically find product information to boot. When you're installing an app, you'll be offered the ability to create a shortcut to an uninstaller, too, essentially making your portable app into a real, fully installed Windows app.
Besides just ease of installation and management, ZipInstaller also promotes ease of access. When you install an application with it, it can not only add a shortcut to the start menu but one to the desktop as well.
ZipInstaller is a nice little tool that's nice if you constantly deal with portable apps that you wish had installers.
Price: Free!

Version discovered: v1.21

Supported OS: Windows NT/2000/XP/Vista/7

Download size: 38.5KB | 68.5KB with Help

Malware scan: 3/42 | 3/43 with Help

dotTechies: We have tested all the software listed above. However, Windows Software of the Day articles are not intended as "reviews" but rather as "heads-up" to help you discover new programs. Always use your best judgement when downloading programs, such as trying trial/free versions before purchasing shareware programs, if applicable.
Related Posts