Today's Software
Subscribe to our Windows section to never miss an article: RSS Feed | E-mail
About Windows Software of the Day
Windows has hundreds of thousands of programs. Because of this great volume and lack of a central store, software discovery (aka finding new and useful programs) is extremely difficult. With our Windows Software of the Day initiative, dotTech aims to change that. Everyday we post three programs, allowing our readers to discover new software, daily. Enjoy! [Subscribe to our Windows section to never miss an article: RSS Feed | E-mail]
Developers: Click here to get your apps featured here!
dotTechies: Want to see an app on here? Send us a tip!
Software for April 10th, 2012
Absolute Uninstaller
If you install a lot of software, you probably would like to uninstall a lot of software too. However, uninstallation is a process that oddly takes longer than installation and is generally much more annoying. "We're sorry to see you go, take our survey to tell us why!"
Much like Windows' built-in uninstaller, Absolute Uninstaller lets you remove software. However, unlike Windows' uninstaller and even the awesome Revo Uninstaller, Absolute lets you batch uninstall programs, making uninstalling much less painful. Simply click Batch Uninstall, select all the software you want uninstalled, and click "Uninstall Checked Programs". It'll automatically run all the uninstallers one by one.
Unfortunately, Absolute Uninstaller doesn't stop the uninstallers from prompting you. They'll still ask "are you sure" sometimes, and some will even open up surveys. But it's a huge step forward from the old method of selecting each program one at a time, and it helped me trim my list from 159 programs to <fill in number here> — a huge improvement.
Just be sure you don't accidentally try to uninstall Absolute Uninstaller like I did.
Price: Free, with $39.95 upgrade
Upgrade details: Upgrade to Glary Utilities Pro, a full system maintenance suite

Version discovered: v2.9

Supported OS: Windows (unknown)

Download size: 2.1MB
Installation notes: Attempts to set homepage — be sure to opt out!

VirusTotal malware scan results: 0/42

Desktop URL Embed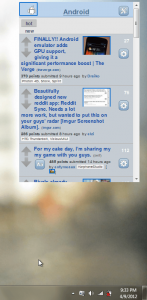 If you've used Windows since before Windows Vista you've probably heard of Active Desktop. Active Desktop was a technology that enabled users to embed webpages on their desktop. However, it was removed in Windows Vista due to either low use or being a security threat. Desktop URL Embed brings it back in a totally safe and secure way by instead utilizing the Windows Sidebar/Gadget utility.
Desktop URL Embed is quite simple. You install it as a gadget and simply configure its URL, window size, and refresh rate. If you can find a good, non-locked down mobile website, you can use that: they make great desktop widgets. For instance, every Reddit page has a mobile site that looks awesome.
Unfortunately, since Desktop URL Embed uses the Internet Explorer engine, the gadget can be a bit slow and a bit wonky at times. For instance, when I had the Android reddit on my desktop, IE insisted on adding a blue link outline to all the images that were links. However, DURLE is still quite useful, especially if you like to browse certain sites often and would like to not have to refresh the site all the time.
Price: Free!

Version discovered: v1.0.0

Supported OS: Windows Vista/7

Download size: 2.8KB

VirusTotal malware scan results: 0/42

Qatapult
Want to quickly switch between programs and run various keyboard commands? Alt+Tab is one solution, sure, but do it with style — use Qatapult. Inspired by the Mac app QuickSilver, Qatapult lets you launch programs, send emails, and more. You can search the web using either Google or Amazon and even browse your computer's filesystem.
Qatapult is a nice little app if you're looking for a nice launcher. However, it's still version 0.2, and is a bit buggy and configuration only works by manually editing the config file. However, even with these issues, it's still quite a promising application and is unique enough to be useful.
Note: The readme.txt file says the defauly keyboard shorcut is Ctrl+Space. It is actually Shift+Space.
Price: Free!

Version discovered: v0.2

Supported OS: Windows Vista/7

Download size: 2.3MB

VirusTotal malware scan results: 0/40

dotTechies: We have tested all the software listed above. However, Windows Software of the Day articles are not intended as "reviews" but rather as "heads-up" to help you discover new programs. Always use your best judgement when downloading programs, such as trying trial/free versions before purchasing shareware programs, if applicable.
Related Posts