Today's Software
Subscribe to our Windows section to never miss an article: RSS Feed | E-mail more–>
About Windows Software of the Day
Windows has hundreds of thousands of programs. Because of this great volume and lack of a central store, software discovery (aka finding new and useful programs) is extremely difficult. With our Windows Software of the Day initiative, dotTech aims to change that. Everyday we post three programs, allowing our readers to discover new software, daily. Enjoy! [Subscribe to our Windows section to never miss an article: RSS Feed | E-mail]
Developers: Click here to get your apps featured here!
dotTechies: Want to see an app on here? Send us a tip!
Software for April 16th, 2012
WirelessKeyView
This classic NirSoft title lets you do one thing and lets you do it well: find the password of every wireless network you've ever connected your computer to. Once you start it up, it'll show information about the network: name, password, adapter that connected to it, etc.
WirelessKeyView is an awesomely useful program that lets you easily get access to your lost or forgotten wifi keys. It's free, and like all NirSoft utilities, tiny and quick.
Price: Free!
Version discovered: v1.36
Supported OS: Windows unknown
Download size: 32-bit: 53KB | 64-bit: 69KB
VirusTotal malware scan results: 32-bit: 19/42 | 64-bit: 1/43 – see note
BulletsPassView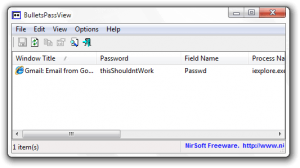 Need to see what password someone has entered in some program? Once again Nir Sofer to the rescue with BulletsPassView. Simply open it and it'll tell you what the currently entered passwords are.
Unfortunately, BulletsPassView does not work with all programs, as some correctly store their passwords in a way that BulletsPassView does not get access to them. Programs like this include Firefox, Chrome, and Opera. Other than this, it's a very useful program and can come in handy quite a bit.
Price: Free!
Version discovered: v1.25
Supported OS: Windows 2000+
Download size: 32-bit: 54KB | 64-bit: 64KB
VirusTotal malware scan results: 32-bit: 10/42 | 64-bit: 1/43 – see note
HiFiTo
If you deal with hidden files a lot, then you probably know the pain of locating the Tools menu (or Organize, or whatever Microsoft named it this time), going to Folder Options, going to the second tab, and unchecking what you need unchecked. Then redoing it because you have to reset it.
HiFiTo is a tiny, 100% portable program that automates this for you. Simply press a keyboard shortcut (or use its system tray icon) and you can show hidden files or show file extensions. It's great to keep on your thumb drive, especially if you work on a lot of computers.
Price: Free!
Version discovered: v1.0.4
Supported OS: Windows XP/Vista/7
Download size: 38KB
VirusTotal malware scan results: 5/41
Important note: WirelessKeyView and BulletsPassView gets a very high VirusTotal score. This is not because they are a virus; rather, they are utilities that could be potentially used to compromise security. In unrelated news I find it funny that a lot of antivirus vendors have NirSoft as its own category of badware.
dotTechies: We have tested all the software listed above. However, Windows Software of the Day articles are not intended as "reviews" but rather as "heads-up" to help you discover new programs. Always use your best judgement when downloading programs, such as trying trial/free versions before purchasing shareware programs, if applicable.
Related Posts