Today's Software
Subscribe to our Windows section to never miss an article: RSS Feed | E-mail
About Windows Software of the Day
Windows has hundreds of thousands of programs. Because of this great volume and lack of a central store, software discovery (aka finding new and useful programs) is extremely difficult. With our Windows Software of the Day initiative, dotTech aims to change that. Everyday we post three programs, allowing our readers to discover new software, daily. Enjoy! [Subscribe to our Windows section to never miss an article: RSS Feed | E-mail]
Developers: Click here to get your apps featured here!
dotTechies: Want to see an app on here? Send us a tip!
Software for April 23, 2012
Desktop Google Reader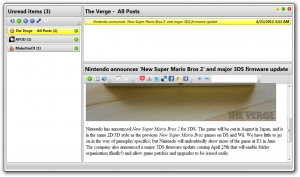 Web apps feel so… webby sometimes. If you like to sync your feeds using Google Reader but hate that you have to use a webapp, try Desktop Google Reader. It's quick, has built-in feed notifications, and allows you to both share and star.
Sharing takes one of the main spotlights of DGR. You can save to Pocket (formerly Read It Later), add to Instapaper, tweet it, add it to your del.icio.us bookmarks, share it on Facebook, add it to Posterous, and even add it to Diigo.
If you like Google Reader and don't like webapps, you'll absolutely love Desktop Google Reader. Give it a try now!
Price: Free!
Version discovered: v1.4.3
Supported OS: Windows XP/Vista/7
Download size: 19.8MB – requires .NET Framework 3.5SP1 on Windows XP/Vista
VirusTotal malware scan results: 1/40
Desktop Google Reader homepage
WhatInStartup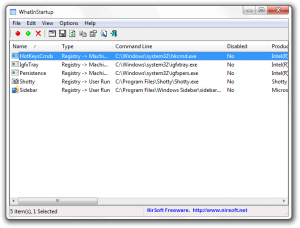 Want to see what all of your startup programs are in an easy, non-jumbled yet detailed list? Try WhatInStartup. It shows you what all the programs that automatically start when you start up your computer are, as well as providing quick access to the ability to disable, delete, and reenable items.
WhatInStartup also allows you to do things like Google search executable and product names, as well as re-execute the commands. It also features a Permanent Disabling mode: whenever WhatInStartup is on, it will automatically re-disable any program you've previously deleted or disabled that tries to re-add itself to the list. While not the most useful feature if you use a startup defender, it's still useful for those without a startup defender.
Price: Free!
Version discovered: v1.33
Supported OS: Windows 2000 to 7
Download size: 51KB
VirusTotal malware scan results: 0/43
Gmail Notifier Plus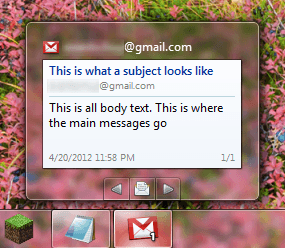 Want to get notified whenever you get a new email? Try Gmail Notifier Plus. Entirely unobtrusive and easy to use, Gmail Notifier Plus lets you monitor multiple Gmail accounts and get minutely reports of new emails. It also lets you cycle through your new emails so you can preview each one.
Gmail Notifier Plus is a nice little addition to Windows, and if you combine it with Desktop Google Reader above, you're already halfway to getting rid of your web browser!
Price: Free!
Version discovered: v2.1.2
Supported OS: Windows 7
Download size: 1.1MB
VirusTotal malware scan results: 0/43
dotTechies: We have tested all the software listed above. However, Windows Software of the Day articles are not intended as "reviews" but rather as "heads-up" to help you discover new programs. Always use your best judgement when downloading programs, such as trying trial/free versions before purchasing shareware programs, if applicable.
Related Posts