Today's Software
WebCamImageSave: take photos with your webcam on either an interval or on demand
NetStat Live: track network usage in MB and MB/s, as well as CPU speed.
CloseAll: close all but specified programs with just a single shortcut
Subscribe to our Windows section to never miss an article: RSS Feed | E-mail
About Windows Software of the Day
Windows has hundreds of thousands of programs. Because of this great volume and lack of a central store, software discovery (aka finding new and useful programs) is extremely difficult. With our Windows Software of the Day initiative, dotTech aims to change that. Everyday we post three programs, allowing our readers to discover new software, daily. Enjoy! [Subscribe to our Windows section to never miss an article: RSS Feed | E-mail]
Developers: Click here to get your apps featured here!
dotTechies: Want to see an app on here? Send us a tip!
Software for April 24, 2012
WebCamImageSave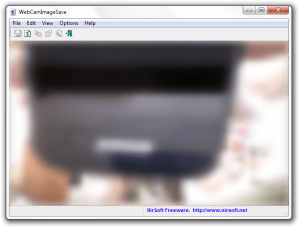 Want to take pictures with your webcam but don't know where to get your manufacturer's included program? Try WebCamImageSave. This small utility not only lets you take single shots, it also lets you take images every few seconds.
It also has one really nice feature: the ability to start hidden. Want to automatically take shots of the person using your computer if it gets stolen? You can make WCIS automatically add all your photos to your Dropbox and instantly get a new photo of  your thief every minute (or more!).
WCIS is a really nice little program that lets you take both single shots and automatic, timed shots with your webcam.
Price: Free!
Version discovered: v1.10
Supported OS: Windows XP/Vista/7, 2000 with GDI+
Download size: 49KB
VirusTotal malware scan results: 0/42
NetStat Live
Want to keep track of your network and system? NetStat Live will have you covered. It contains lots of system info, like total incoming data, incoming bandwidth usage, outgoing total data, outgoing bandwidth usage, and CPU load.
If your ISP bills you for monthly usage, NetStat Live can also keep track of that for convenience's sake. However, be certain that you're keeping track of your bandwidth on smartphones, tablets, other computers, and other internet-connected devices! NetStat Live is a nice little tool that acts much like  a gadget but without the need for Windows' Sidebar.
Price: Free!
Version discovered: v2.15
Supported OS:
Download size: 366KB
VirusTotal malware scan results: 1/42
CloseAll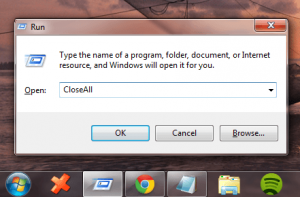 Want to close all your applications quickly and quietly? Try CloseAll. This super simple program simply tells every active program to cease immediately. Within generally a second or two, your desktop will be clear and ready for you to clutter up again.
If you want to close all but a certain process (for instance, close chrome.exe but keep Excel.exe open), you can do that too. Just edit the shortcut to by this:
CloseAll.exe -x="progname1.exe|progname2.exe"
Your shortcut will close every active program but progname1 and progname2. It's that easy!
Price: Free!
Version discovered: v1.3
Supported OS: Windows XP/Vista/7
Download size: 36KB
VirusTotal malware scan results: 0/42
dotTechies: We have tested all the software listed above. However, Windows Software of the Day articles are not intended as "reviews" but rather as "heads-up" to help you discover new programs. Always use your best judgement when downloading programs, such as trying trial/free versions before purchasing shareware programs, if applicable.
Related Posts