Today's Apps
Subscribe to our Android section to never miss an article: RSS Feed | E-mail
About Android Apps of the Day
Android has over 450,000 apps. With so many apps out there, app discovery (aka finding new and useful apps) is extremely difficult. With our Android Apps of the Day initiative, dotTech aims to change that. Everyday we post three apps, allowing our readers to discover new apps, daily. Enjoy! [Subscribe to our Android section to never miss an article: RSS Feed | E-mail]
Developers: Click here to get your apps featured here!
dotTechies: Want to see an app on here? Send us a tip!
Apps for April 26, 2012
Shoot the Apple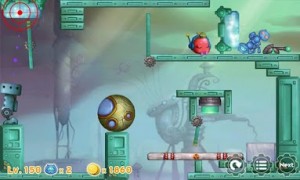 Shoot the Apple is an Angry Birds-like physics game for Android. In Shoot the Apple you control an 'alien cannon' and the goal of the game is to shoot the cannon, which fires an alien, at the apple. If the alien hits the apple, you win the stage and move on to the next stage. If you miss, you can continue to take shots at the apple until you hit it; the more shots you take to hit the apple the less points and gold coins you will get at the end of the level. There are over 400 levels for you to play.
What makes this game interesting is you have to use clever methods to hit the apple with the alien; 'physics' such as gravity and wind, and obstacles such as walls, ensure hitting the apple isn't as straight forward as it may sound.
Price: Free
Version discovered: v1.1.7
Requires: Android 1.6 and up

Download size: 9.7 MB
Google Drive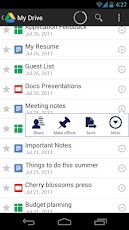 Google Drive is the official Android app for Google Drive, a cloud storage service by Google. With this Google Drive app you can download and upload files to/from your Google Drive account and manage Google Docs documents. In addition, you can share your files with others and view files shared with you. Files can be downloaded for 'offline viewing' and Google Drive has all the Google Docs features built-in which include viewing PDFs, viewing and editing documents, converting documents to Google Docs format, and doing OCR on images.
The Google Drive app is free. The Google Drive service provides 5 GB of free storage with the option to upgrade to 25 GB for $2.49/month or 100 GB for $4.99/month.
Price: Free
Version discovered: v1.0.77
Requires: Android 2.1 and up

Download size: 4.6 MB
Gallery Lock
Gallery Lock is an app that allows users to hide photos and videos. When Gallery Lock hides a photo or video, that photo/video is inaccessible by any other app, including Gallery, file managers, and other photo viewers. Gallery Lock works in one or two ways. You can either hide photos/videos from within the app itself or you can use the "Share" menu when viewing photos/videos in Gallery and select "Gallery Lock" to hide photos and videos. After photos/videos are hidden, they can be viewed and unhidden only via Gallery Lock. Gallery Lock itself is password/pin/pattern protected so no one can go in and unhide or view your hidden photos/videos without your knowledge — you need to know the password/pin/pattern before you can change anything.
Gallery Lock comes in FREE and Pro versions. Gallery Lock FREE is ad-supported. Gallery Lock Pro is ad-free and has a 'stealth mode' which hides the Gallery Lock icon from app trays, making it hard for people to know you have it installed unless they are specifically looking for it.
Take note if you ever plan on uninstalling Gallery Lock, be sure to unhide all your photos and videos prior to uninstall or else you will lose them all.
Price: Free, $2.72
Version discovered: v2.7.4
Requires: Android 2.2 and up

Download size: 2.0 MB
Gallery Lock FREE on Play Store | Gallery Lock Pro on Play Store
dotTechies: We have tested all the apps listed above. However, Android Apps of the Day articles are not intended as "reviews" but rather as "heads-up" to help you discover new apps. Always use your best judgement when downloading apps, such as trying trial/free versions before purchasing paid apps, if applicable.
Related Posts