Today's Apps
91 Locker [Add call, message, camera and other shortcuts to your lockscreen]
No Lock [Disable your device's lockscreen]
Jet Launcher [Launch apps using swipe gestures]
Subscribe to our Android section to never miss an article: RSS Feed | E-mail
About Android Apps of the Day
Android has over 450,000 apps. With so many apps out there, app discovery (aka finding new and useful apps) is extremely difficult. With our Android Apps of the Day initiative, dotTech aims to change that. Everyday we post three apps, allowing our readers to discover new apps, daily. Enjoy! [Subscribe to our Android section to never miss an article: RSS Feed | E-mail]
Developers: Click here to get your apps featured here!
dotTechies: Want to see an app on here? Send us a tip!
Apps for May 7, 2012
91 Locker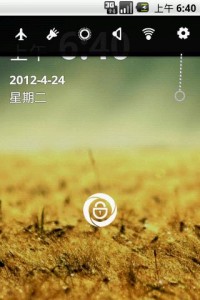 In the past dotTech has featured WidgetLocker Lockerscreen, an app that allows users to add custom shortcuts to their device's lockscreen, 91 Locker, while not as customizable as WidgetLocker Lockscreen, is an app that allows users to do the same — add additional shortcuts to the lockscreen. More specifically, 91 Locker adds shortcuts to call, message, and camera to the lockscreen; in addition, 91 Locker adds a 'pull-down' menu that provides access to toggles for airplane mode, flashlight (if applicable), screen brightness, vibrate/sound, and WiFi from right within the lockscreen. As an added bonus, 91 Locker has the ability to set a customer wallpaper, allowing you to have separate wallpapers from your lockscreen and homescreen.
Take note 91 Locker has two lockscreen modes — circle and linear. As per my testing, linear mode does not properly disable the Ice Cream Sandwich native lockscreen (i.e. you have two lockscreens if you use linear mode) whereas circle mode works perfectly. Seeing as 91 Locker is only in v1.0 (it is a newly released app), you may face similar issues with your device — toggle between the modes until you find the one that works best for you.
Price: Free
Version discovered: v1.0
Requires: Android 2.0 and up

Download size: 702 KB
No Lock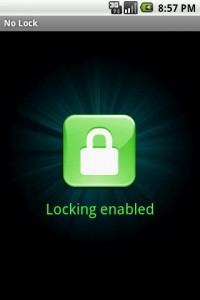 No Lock is a simple app that allows users to disable their device's lockscreen. To disable the lockscreen. simply run No Lock and click on the large green lock once, after which it will turn orange indicating your device's lockscreen has been disabled. To (re)enable the lockscreen, simply tap the orange lock until it turns green indicating the lockscreen has been enabled. There is a 1×1 widget that allows you to disable/enable the lockscreen right from your homescreen.
Take note because of the restrictions some devices/ROMs have, No Lock does not work for all devices. The developer does not provide any specific list of devices that No Lock works with/doesn't work with. It works perfectly on my Nexus S running Android v4.0.4.
Price: Free
Version discovered: v1.06
Requires: Android 1.5 and up

Download size: 183 KB
Jet Launcher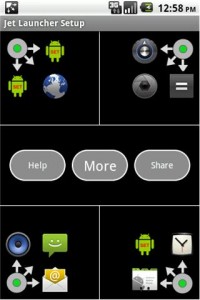 Jet Launcher is an app that allows users to run their favorite apps using swipe gestures. Jet Launcher creates "hotspots" in each of the four corners of your device's screen; each corner can be assigned up to three apps each (for a total of twelve apps) which are launched by using swipe gestures of up, down, left, right, or diagonal (the gestures vary per corner). Jet Launcher is "on top" all the time so the swipe gestures work regardless of which app you are running; however, it doesn't affect your app performance — it only goes into action if you make the relevant swipe gestures. If you prefer to not use all four corners, you have the ability to pick and chose which corners to use with Jet Launcher.
Jet Launcher is ad-supported while Jet Launcher Pro is ad-free.
Price: Free, $2.99
Version discovered: v1.01
Requires: Android 2.2 and up

Download size: 578 KB
Jet Launcher on Play Store | Jet Launcher Pro on Play Store
dotTechies: We have tested all the apps listed above. However, Android Apps of the Day articles are not intended as "reviews" but rather as "heads-up" to help you discover new apps. Always use your best judgement when downloading apps, such as trying trial/free versions before purchasing paid apps, if applicable.
Related Posts