Today's Software
Subscribe to our Windows section to never miss an article: RSS Feed | E-mail
About Windows Software of the Day
Windows has hundreds of thousands of programs. Because of this great volume and lack of a central store, software discovery (aka finding new and useful programs) is extremely difficult. With our Windows Software of the Day initiative, dotTech aims to change that. Everyday we post three programs, allowing our readers to discover new software, daily. Enjoy! [Subscribe to our Windows section to never miss an article: RSS Feed | E-mail]
Developers: Click here to get your apps featured here!
dotTechies: Want to see an app on here? Send us a tip!
Software for May 14, 2012
Spyrix Free Keylogger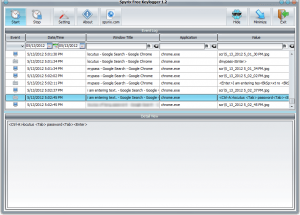 Keylogging. We all know what it is, and it's pretty much universally despised: the act of recording every single keystroke through the use of software or hardware. However, there are legitimate uses for keylogging: some parents use them to monitor their children's internet activity, and some employers do the same for their employees. On the more personal side of computing, you might want to run a keylogger so you can always recover data that got deleted: if my computer were to crash without saving this article, for instance, a keylogger would save me the hassle of rethinking and retyping it.
Spyrix Free Keylogger is such a keylogger: from the moment you start it, it automatically records all of the text you enter, from documents to searches to passwords. As such, it's a pretty dangerous set of information, so Spyrix lets you both require a password to view and the ability to hide it entirely (and view it with a keyboard shortcut).
It also lets you take automatic screenshots whenever either the clipboard is changed or when the window title changes. This is useful, as it allows you to not only know what the person being logged is typing but also where they're typing it and what they're seeing.
Price: Free!
Version discovered: v1.2
Supported OS: Windows 2000+
Download size: 1.96MB
VirusTotal malware scan results: 0/42
Portability: Requires installation
Spyrix Free Keylogger homepage
PhotoGrok
There's not that much to a digital photograph, right? It's just a bunch of pixels in a bunch of rows; nothing too complicated. However, in truth, there's a massive amount of data–called EXIF data–stored about each photo that can be quite nice to look at: the date it was taken, if you used flash, focal length, aperture, and more. Accessing this data, however, isn't easy, unless you use a photo managing tool like PhotoGrok.
Even with my standard Canon point-and-shoot camera, PhotoGrok was able to dredge up an impressive amount of information about my trip to Poland: it told me what camera I used, exposure information, flash information, focal information, and much more that I'll never ever need to know or use.
PhotoGrok also makes a really nice photo browser: as you can see to the top left, it's got a nice looking interface and leaves the majority of the screen unencumbered with the nitty gritty EXIF data. All in all PhotoGrok is a nice alternative to the standard photo managers and is a nice program to use across systems.
Price: Free!
Version discovered: v1.46 
Supported OS: Windows/Mac OS X/Linux with Java 1.5+
Download size: N/A – web launcher
VirusTotal malware scan results: N/A – web launcher
Portability: Requires installation
Google Book Downloader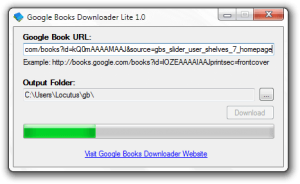 Want to download a book from Google's new Google Books? While Google Books offers built-in download links for many books, it only offers EPUBs and PDFs, so you may want to consider Google Book Downloader: it can download books in raw PNG format. I was able to get my own personal copy of Pride and Prejudice in just a minute, which is impressive considering it was made up of over 350 PNG images!
Admittedly, since Google Book Downloader downloads each page as a separate PNG file, it's not nearly as useful as Google's built-in PDF/ePUB downloading options. However, Google Book Downloader lets you download multiple books from a queue (just separate URLs with commas), and in certain situations, a PNG can be better than a PDF.
Overall, Google Book Downloader's not terribly useful, but it could perhaps still be something that you might use.
Price: Free!
Version discovered: v1.0
Supported OS: Windows with .NET Framework 3.5+
Download size: 146KB
VirusTotal malware scan results: 0/41
Portability: Entirely portable!
Google Book Downloader homepage
dotTechies: We have tested all the software listed above. However, Windows Software of the Day articles are not intended as "reviews" but rather as "heads-up" to help you discover new programs. Always use your best judgement when downloading programs, such as trying trial/free versions before purchasing shareware programs, if applicable.
Related Posts