Today's Software
Gmail Notifier: get Gmail notifications in your Windows 7 taskbar
Metanull: wipe EXIF data from saved photos
Rumshot: take fancy screenshots with borders
Subscribe to our Windows section to never miss an article: RSS Feed | E-mail
About Windows Software of the Day
Windows has hundreds of thousands of programs. Because of this great volume and lack of a central store, software discovery (aka finding new and useful programs) is extremely difficult. With our Windows Software of the Day initiative, dotTech aims to change that. Everyday we post three programs, allowing our readers to discover new software, daily. Enjoy! [Subscribe to our Windows section to never miss an article: RSS Feed | E-mail]
Developers: Click here to get your apps featured here!
dotTechies: Want to see an app on here? Send us a tip!
Software for May 15, 2012
Kwerty Gmail Notifier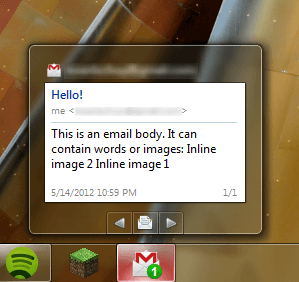 Last month, we looked briefly at Gmail Notifier Plus. If you like the idea but would rather have a different execution, Kwerty Gmail Notifier is a downright copycat that also adds a few new things and is under active development.
Kwerty actually appears to be a relatively recent branch of Gmail Notifier Plus. However, it adds a better looking icon and is under development, meaning that it can in the future get better and better. While it's really not much to write home about yet, there's hope for the future and for both Kwerty GN and GNP.
Price: Free!
Version discovered: v1.2
Supported OS: Windows 7 with .NET Framework 4.0
Download size: 2.14MB
VirusTotal malware scan results: 0/42
Portability: Requires installation
Kwerty Gmail Notifier homepage (offline) | GitHub page
Metanull
Remember yesterday's PhotoGrok, which allows you to view all of the EXIF data from your photos? All that lovely, identifying information, potentially including things like GPS location data and the name of the super secret camera you're testing?
Don't let others see it. Spend around a minute of your time setting up and running Metanull to remove all of this data. When you're done, take another look at your EXIF data: it's gone. It's disappeared, never to haunt you again. Obviously you won't want to run this on your own personal copies of photos, but if you're uploading them to the internet, it may be a good idea to scrub them first.
Price: Free!
Version discovered: v1.0.4508.21633
Supported OS: Windows XP+
Download size: 7.51KB
VirusTotal malware scan results: 0/42
Portability: Entirely portable!
Rumshot

Want to take fancy screenshots with custom borders? Try Rumshot, a tiny little utility that lets you do just that. With the click of a button, you can take a screenshot, and with the click of another button, have it saved.
Rumshot's main focus is the custom borders, however. Along with a downloadable theme pack, it's possible to create your own, and it's also possible download 3rd party borders from sites like DeviantArt. If you're looking for screenshots with some class, try Rumshot.
Note 1: be sure to download the theme pack as well! Just unzip it to My Documents/Rumshot Themes.
Note 2: due to how the screenshots work, you'll need to temporarily disable "animate windows when minimizing and maximizing" from Performance Options.
Price: Free!
Version discovered: v1.1.0 Preview
Supported OS: Windows 2000+
Download size: 227KB
VirusTotal malware scan results: 0/40
Portability: No installation required; creates folders in My Documents
dotTechies: We have tested all the software listed above. However, Windows Software of the Day articles are not intended as "reviews" but rather as "heads-up" to help you discover new programs. Always use your best judgement when downloading programs, such as trying trial/free versions before purchasing shareware programs, if applicable.
Related Posts