Today's Software
AniExplorer: add transitions to Windows Explorer
WizMouse: change default scrolling behavior and add scrollwheel support to unsupported programs
Wallpaper Downloader: automatically download Bing wallpapers
Subscribe to our Windows section to never miss an article: RSS Feed | E-mail
About Windows Software of the Day
Windows has hundreds of thousands of programs. Because of this great volume and lack of a central store, software discovery (aka finding new and useful programs) is extremely difficult. With our Windows Software of the Day initiative, dotTech aims to change that. Everyday we post three programs, allowing our readers to discover new software, daily. Enjoy! [Subscribe to our Windows section to never miss an article: RSS Feed | E-mail]
Developers: Click here to get your apps featured here!
dotTechies: Want to see an app on here? Send us a tip!
Software for May 19, 2012
AniExplorer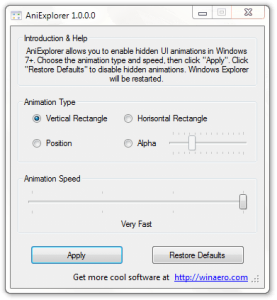 Windows Explorer has some hidden animations built in that you've never seen. Unless you use AniExplorer, in fact, you'll never see them.
AniExplorer is a very simple program.  It has only two options, and both are about as straightforward as one could want them to be. It first lets you choose the animation type, and then the animation speed. It allows you to have icons slide in from the top, the left, unstack, or even fade out. (That's right, not fade in. Fade out!)
Personally, my favorite is a very fast vertical slide. It looks clean, it's fast, and it's easy to use. You can take a look at the various animations in this video, produced by the developer:
As you can see, it's easy to change animation speeds as well as animation types.
Price: Free!
Version discovered: v1.0.0.0
Supported OS: Windows 7/8
Download size: 49.87KB
VirusTotal malware scan results: 0/39
Portability: No installation needed but changes system settings
WizMouse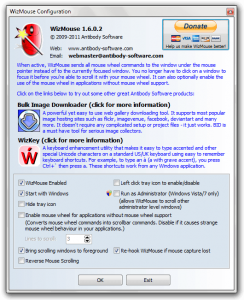 Scrolling is, oddly enough, something that each user likes to have different. Some prefer the side-scrolling present on many laptop mice; others prefer two-finger scrolling; yet others prefer mouse wheels. However, none of these groups ever stops to think about things they can do while scrolling.
Say you're writing a huge paper or essay on some important topic in Microsoft Word and you want to read Wikipedia in a background window. Normally, every time you want to scroll down on the Wikipedia page, you'd have to bring its window to the front, scroll, and switch back to Word.  Wouldn't it be great if you could conveniently scroll the Wikipedia article without having to place it awkwardly in front of your Word document?
WizMouse lets you do that. It lets you scroll in background windows while you have other programs in the front, and it lets you even optionally bring them to the front when you start scrolling them.
It also lets you play around with scrolling a bit more. For instance, if you're used to using Mac OS X and want reverse scrolling, it lets you enable that with a single check box. WizMouse is master of all scrolling options, and if you're interested in customizing your computer, is a great way to make scrolling better.
Note that WizMouse may not work properly on built-in laptop trackpads. In fact, I couldn't get it to work on my built-in mouse and had to plug in a USB mouse to get it to work. This is because laptop mice often send signals in different ways than USB mice. However, some trackpad makers include in their driver settings the ability to scroll on windows that aren't selected, so it is worth a shot to look inside Mouse settings.
Price: Free!
Version discovered: v1.6.0.2
Supported OS: Windows 2000+
Download size: 544KB
VirusTotal malware scan results: 0/42
Portability: Requires installation
Wallpaper Downloader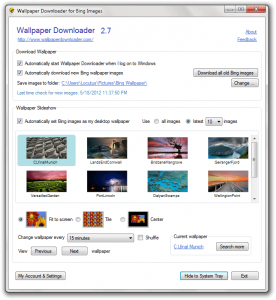 Bing.com has some beautiful wallpapers. However, since only 30% of people use Bing as their primary search engine, they often get wasted for nothing. Don't let that happen! Use them as your daily wallpaper with Wallpaper Downloader.
With Wallpaper Downloader, you can set up recent Bing images to be a wallpaper slideshow. You can choose how frequently it'll change the images and how many of the recent images to choose from; however, no matter what you choose your computer will always look great.
If you're looking to get the beautiful Bing backgrounds on your personal computer, Wallpaper Downloader is a great way to do it entirely automatically. What's not to like?
Note: at first run, it asks you to create an account, which you'll need to do to use WD. However, it does not validate email addresses, so I recommend using a fake email account such as 123@fake.com.
Price: Free! 
Version discovered: v2.7
Supported OS: Windows 2000+
Download size: 866KB
VirusTotal malware scan results: 0/40
Portability: Requires installation
dotTechies: We have tested all the software listed above. However, Windows Software of the Day articles are not intended as "reviews" but rather as "heads-up" to help you discover new programs. Always use your best judgement when downloading programs, such as trying trial/free versions before purchasing shareware programs, if applicable.
Related Posts