Today's Apps
Smart RAM Booster ["Smartly" clear RAM usage by killing low priority apps]
DOOORS [Game]
Air horn [An app that makes air horn, clapping, whip, nuclear alarm, and more sounds]
Subscribe to our Android section to never miss an article: RSS Feed | E-mail
About Android Apps of the Day
Android has over 450,000 apps. With so many apps out there, app discovery (aka finding new and useful apps) is extremely difficult. With our Android Apps of the Day initiative, dotTech aims to change that. Everyday we post three apps, allowing our readers to discover new apps, daily. Enjoy! [Subscribe to our Android section to never miss an article: RSS Feed | E-mail]
Developers: Click here to get your apps featured here!
dotTechies: Want to see an app on here? Send us a tip!
Apps for May 25, 2012
Smart RAM Booster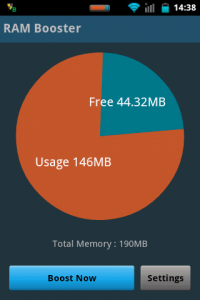 Smart RAM Booster is a task killer app but it is what I like to call a "smart" task killer. You see Android has built-in memory management capability that kills low priority background apps when free RAM/memory is low. For most devices, particularly high-end devices, this native memory management works just fine and there is no need for task killers or apps like Smart RAM Booster. However, for some devices, specifically low-end devices which not only have a small amount of RAM but also poor programming due to manufacturers cutting corners to lower cost, native Android memory management isn't good enough. And that is where Smart RAM Booster comes into play.
Smart RAM Booster, more or less, mimics Android's native memory management functionality of killing low priority apps. (In other words, while you have the ability to go in and manually select apps to kill, for the most part Smart RAM Booster decides which apps to kill — you don't decide.) However, instead of leaving it to Android to decide when to kill low priority apps, Smart RAM Booster puts this capability into the hands of users that can trigger Smart RAM Booster whenever they desire.
Smart RAM Booster works in four modes:
Aggressive: kill most low priority apps
Strong: kill low priority apps consume lightly below "average RAM usage"
Medium: kill apps that consume above "average RAM usage"
Gentle: kill apps that use considerable memory
("Average RAM usage" is calculated in real time by Smart RAM Booster based on currently running apps and is a floating average that regularly changes.)
By default Smart RAM Booster runs in 'Strong' mode but you obviously have the ability to change that.
Smart RAM Booster can be triggered from within the app itself, by using a homescreen widget, by using a "floating" widget which is a very small widget that stays on top of all running apps allowing you to run Smart RAM Booster regardless of which app you are using, or by placing Smart RAM Booster in the pull-down menu and triggering it from there.
Other features of Smart RAM Booster include a 'Whitelist' which allows users to define which apps/services to never kill and the ability to automatically run Smart RAM Booster based on free RAM levels and a user-defined interval.
Price: Free
Version discovered: v0.91
Requires: Android 2.1 and up

Download size: 232 KB
Smart RAM Booster on Play Store
DOOORS
DOOORS is a unique puzzler game for Android in which the goal of the game is to break out of rooms through doors. What makes DOOORS a unique puzzler is to open the door of each level you need to perform different tricks, such as tapping on objects on-screen that you then use to open the door (such as a key) or tilting/shaking your Android device. As you progress further in the game, the tricks required to open the doors get harder and, drum roll please, trickier.
This game is actually fairly hard to describe by typing. You have to experience the game to understand what it is.
Price: Free
Version discovered: v1.0.0
Requires: Android 2.1 and up

Download size: 19 MB
Air horn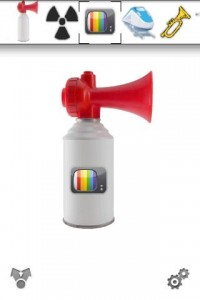 Simply put, Air horn is an app that allows users to play sounds from their devices. What sounds, exactly? The following: Air horn, whip, fart, whistling, sub machine gun, clapping, nuclear siren, tv channel not there sound, train horn, vuvuzela, truck horn, heart beat monitor sound, and two other sounds I can't name. All sounds are playable via Air horn's main app window.
Price: Free
Version discovered: v1.6.12
Requires: Android 1.6 and up
Download size: 1.9 MB
dotTechies: We have tested all the apps listed above. However, Android Apps of the Day articles are not intended as "reviews" but rather as "heads-up" to help you discover new apps. Always use your best judgement when downloading apps, such as trying trial/free versions before purchasing paid apps, if applicable.
Related Posts