Today's Software
SimillaEnlarger: enlarge photos using special algorithms to reduce pixelization
FilerFrog: uber-file management from within the Windows Explorer context menu
System Security Guard: compare running programs to an online database
Subscribe to our Windows section to never miss an article: RSS Feed | E-mail
About Windows Software of the Day
Windows has hundreds of thousands of programs. Because of this great volume and lack of a central store, software discovery (aka finding new and useful programs) is extremely difficult. With our Windows Software of the Day initiative, dotTech aims to change that. Everyday we post three programs, allowing our readers to discover new software, daily. Enjoy! [Subscribe to our Windows section to never miss an article: RSS Feed | E-mail]
Developers: Click here to get your apps featured here!
dotTechies: Want to see an app on here? Send us a tip!
Software for May 25, 2012
SmillaEnlarger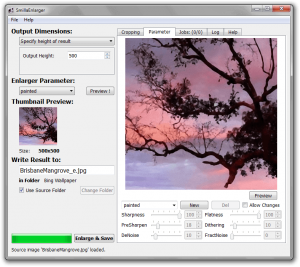 Want to resize an image? That's all fine and dandy if you're scaling down. However, scaling up can be a real issue sometimes, as it leads to pixelization, or just plain blurriness. SmillaEnlarger aims to fix this using some fancy algorithms that result in slightly less blurring.
Smilla is also really easy to use, which is nice. To use it, you just drag and drop an image onto it and crop it by dragging your cursor in a box. Once you've cropped it to the area you want, hit Preview on the left and you'll be greeted with the improved scaled image.
Smilla is just that easy and produces great results. While it's obviously nothing like zooming in when you initially take the photo, it's a great tool for zooming in to certain parts of images without pixellating them.
Price: Free!
Version discovered: v0.9.0
Supported OS: Windows unknown
Download size: 6.7MB
VirusTotal malware scan results: 0/42
Portability: Entirely portable!
FilerFrog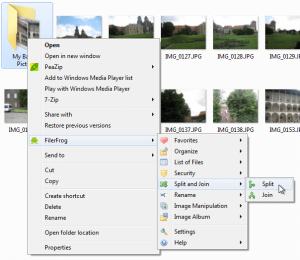 Want an über-powered context menu powerhouse? FilerFrog is that tool. It lets you automatically organize your desktop, organize folders, resize images, and much more. It's an all-around nice file management tool for everyday use.
FilerFrog lets you organize and sort your files. You can use it to move or copy all selected files to a specific folder, or move files up a level in folder hierarchy. And, if you have important files that you need quick access to, you can just add them to your favorites and access them from anywhere.
You can also use FilerFrog to encrypt or split your files. It uses RC4 when encrypting files, which is the same cryptography as such technologies as SSL and WEP, so it's fairly secure. However, if you use FilerFrog's split function along with its encryption, you can ensure very secure file transfer. You can split an encrypted file into multiple parts and send one over email, one over IM, and one over a file sharing site to ensure that it's never in one piece except when it's reconstructed at its destination.
FilerFrog also has many other functions, such as image resizing and file renaming. Everything you can possibly think of doing with file management is possible with FilerFrog.
Price: Free!
Version discovered: v2.2.0
Supported OS: Windows XP+
Download size: 1.3-1.5MB
VirusTotal malware scan results: 32-bit: 0/42 | 64-bit: 0/42
Portability: Requires installation
System Security Guard
Have you ever used System Explorer? It's a free System Internals (not SysInternals) tool that lets you view detailed information about running programs. It's nice as a standalone application, but there's always been the possibility for more: now that possibility is a reality. System Security Guard is a free tool based off of System Explorer that checks all running programs against an online database to see if they're malicious.
Compatible with all antivirus programs, SSG uses the online System Explorer database to see how common and how popular various files are. If executables are very common, they're generally safe; less common ones generally have a greater security risk. It's a nice tool to have if you don't want to run a traditional antivirus, or if you're looking for something more crowdsourced.
Price: Free!
Version discovered: v2.1.0
Supported OS: Windows XP+
Download size: 1.4-1.5MB
VirusTotal malware scan results: Portable: 0/42 | Installer: 0/40
Portability: Portable version available!
System Security Guard homepage
dotTechies: We have tested all the software listed above. However, Windows Software of the Day articles are not intended as "reviews" but rather as "heads-up" to help you discover new programs. Always use your best judgement when downloading programs, such as trying trial/free versions before purchasing shareware programs, if applicable.
Related Posts