Today's Software
WinAutoHide: hide windows to any side of a screen
SymLinker: link local and networked drives transparently
Hyperdesktop: take screenshots quickly and upload them
Subscribe to our Windows section to never miss an article: RSS Feed | E-mail
About Windows Software of the Day
Windows has hundreds of thousands of programs. Because of this great volume and lack of a central store, software discovery (aka finding new and useful programs) is extremely difficult. With our Windows Software of the Day initiative, dotTech aims to change that. Everyday we post three programs, allowing our readers to discover new software, daily. Enjoy! [Subscribe to our Windows section to never miss an article: RSS Feed | E-mail]
Developers: Click here to get your apps featured here!
dotTechies: Want to see an app on here? Send us a tip!
Software for May 28, 2012
WinAutoHide

Want to get rid of a window for a short time without minimizing it? Hide it off to the side with WinAutoHide, a tiny little open-source tool. When using WinAutoHide, you can easily hide a window off to a side of your screen by simply pressing Win+<arrow key>: the window will magically disappear.
For instance, look at the screenshot to the right. You'll notice that there's a slight black gradient softly fading to the right. This is the indicator that a window is being hidden: if I press Win+Left again, the window will suddenly pop up out of hiding and be ready to use. It can be very useful if you're, say, playing Solitaire at work again and your boss suddenly comes over. In all likelihood they'll never notice the black band, and you'll not have the game open any more.
Note: WAH gets a very high score on VirusTotal. This is most likely because it is a compiled AutoHotkey script, which generally tend to have very high false positive rates.
Price: Free!
Version discovered: v1.00
Supported OS: Windows XP+
Download size: 194KB
VirusTotal malware scan results: 12/42
Portability: Entirely portable!
SymLinker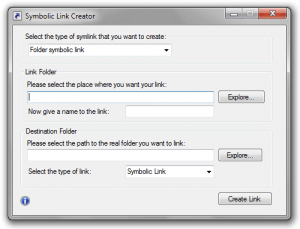 Want to make mount a folder somewhere else on your drive? Perhaps you've got a backup tool that refuses to backup over a network and instead wants to be backed up to a local drive. You can fool it into thinking it's backing up locally by creating a link between a folder on your computer and on the networked drive.
SymLinker is just the tool to make those links. It lets you link drives and files so that your computer doesn't even notice that it's a different location. For instance, I can make D:/myFiles link to C:/Users/Locutus/Documents in such a way that no actual space is used on D: but the computer still thinks that I'm on the D: drive.
Note: if SymLinker is not working as intended, run it as admin using the context menu.
Price: Free!
Version discovered: v1.1.1.3
Supported OS: Windows Vista/7
Download size: 86KB
VirusTotal malware scan results: 0/41
Portability: Entirely portable!
Hyperdesktop
Need to take a quick screenshot? There are dozens upon dozens of screenshot tools available on the internet, and each of them has their upsides and downsides. Hyperdesktop is one of those many tools, and allows for basic editing including adding text and drawing on images.
One thing that's neat about Hyperdesktop is its built-in Imgur capabilities. While Hyperdesktop does nothing to help you upload new screenshots to Imgur (which is a little odd), it does feature a dropzone on its main window that lets you drag and drop photos and screenshots onto Imgur. When you've uploaded an image, it'll add its link to a list and you can easily access it whenever you need.
Price: Free!
Version discovered: unknown
Supported OS: Windows unknown
Download size: 217KB
VirusTotal malware scan results: 3/41
Portability: Entirely portable!
dotTechies: We have tested all the software listed above. However, Windows Software of the Day articles are not intended as "reviews" but rather as "heads-up" to help you discover new programs. Always use your best judgement when downloading programs, such as trying trial/free versions before purchasing shareware programs, if applicable.
Related Posts