Today's Apps
Clickfree Backup [Backup photos, media files (audio/video), documents, applications, bookmarks, contacts, and calendar to internal storage, SD card, or Dropbox]
Yahoo! Cricket [Android app for Yahoo! Cricket, a service reports on happenings in the world of Cricket (the sport)]
Child Lie Detector [Help discipline children to not lie]
Subscribe to our Android section to never miss an article: RSS Feed | E-mail
About Android Apps of the Day
Android has over 450,000 apps. With so many apps out there, app discovery (aka finding new and useful apps) is extremely difficult. With our Android Apps of the Day initiative, dotTech aims to change that. Everyday we post three apps, allowing our readers to discover new apps, daily. Enjoy! [Subscribe to our Android section to never miss an article: RSS Feed | E-mail]
Developers: Click here to get your apps featured here!
dotTechies: Want to see an app on here? Send us a tip!
Apps for May 28, 2012
Clickfree Backup
Clickfree Backup is an app that allows users to easily backup (and restore) their photos, media files (audio/video), documents, applications, bookmarks, contacts, and calendar data. Backups are automated in the sense that you simply tell Clickfree Backup what type of files/data to backup and it automatically scans your Android device (internal storage and SD card) to find the files that need to be backed up. After files are backed up, you are total the number of files and size of each category so you know exactly how much data has been backed up. Backups can be stored locally on your Android device (internal storage or SD card; SD card is default storage location) or to the cloud via Dropbox (no other cloud service is supported at this time).
Restoring files is as easy as backing up files. Simply tell Clickfree Backup which category of files/data to backup (you can select individual categories to restore, so you don't have to restore them all if you wish) and it restores the files/data. The cool thing about Clickfree Backup is you can restore backed up files to different devices, so you don't necessarily need to restore files/data on the same device you created the backup on.
Clickfree Backup has a 'Viewer' feature that allows users to view backed up files (aside from contacts). Clickfree Backup has a built-in image viewer and media viewer so it has the ability to show images and play media files (audio/video) by itself; to view other file types you need apps that can read them, e.g. to view a backed up PDF file you need a PDF reader.
Price: Free
Version discovered: v1.0.83
Requires: Android 2.2 and up

Download size: 947 KB
Clickfree Backup on Play Store
Yahoo! Cricket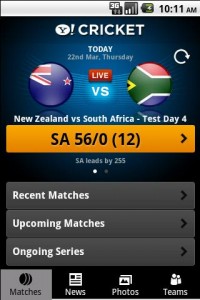 Yahoo! Cricket is the official Android app for Yahoo! Cricket, a service that follows and reports on Cricket games and news (Cricket, the sport). Coverage of live matches by Yahoo! Cricket includes live scores, interactive scorecards, and even ball-by-ball commentary. In addition to following live matches, users can view detailed information about past matches; and view schedules for future fixtures and tournaments.
Aside from matches, Yahoo! Cricket allow provides Cricket news and articles which users can read, detailed information about individual players and teams, and view image galleries.
(Note: Yahoo! Cricket does not show live matches.)
Price: Free
Version discovered: v1.0
Requires: Android 1.5 and up

Download size: 3.2 MB
Child Lie Detector
Child Lie Detector is an interesting app that aims to help teach children to not lie. Child Lie Detector isn't some sort of magic pill to discipline children with. Rather, Child Lie Detector works by tricking children into thinking the app knows when a child lies or not thus "scaring" children into telling the truth. How exactly does Child Lie Detector work? The developer of the app provides the following advice:
Place the Android device on your child's forehead.
Ask your child questions you know the answers to.
Choose the answer you know is correct (there are "TRUE" and "FALSE" buttons)
Show the answer to your child.
(This will get your child to realize the device knows the answers to your questions.)
Then ask your child a question you don't know the answer to.
Choose the answer you suspect is correct.
Show the answer to your child.
Watch as your child learns that they cannot get away with lying!
The method used by Child Lie Detector obviously varies on how clever (or lack thereof) your child is; if the child figures out what you are doing Child Lie Detector is useless. And to be honest it sounds kind of crude — I'm not sure if I would use it on my children or not. In any case, if you have a lying problem with your children, this is something you can consider.
Price: Free, $0.99
Version discovered: v1.1
Requires: Android 2.2 and up

Download size: 2.3 MB
Child Lie Detector on Play Store | Child Lie Detector AdFree on Play Store
dotTechies: We have tested all the apps listed above. However, Android Apps of the Day articles are not intended as "reviews" but rather as "heads-up" to help you discover new apps. Always use your best judgement when downloading apps, such as trying trial/free versions before purchasing paid apps, if applicable.
[Clickfree Backup and Yahoo! Cricket via AddictiveTips]
Related Posts