Today's Software
ImgBurn: burn or create disc images of virtually any disc in the world
Password Resetter: reset Windows passwords
WinToFlash: install Windows XP/Vista/7 from a thumb drive
Subscribe to our Windows section to never miss an article: RSS Feed | E-mail
About Windows Software of the Day
Windows has hundreds of thousands of programs. Because of this great volume and lack of a central store, software discovery (aka finding new and useful programs) is extremely difficult. With our Windows Software of the Day initiative, dotTech aims to change that. Everyday we post three programs, allowing our readers to discover new software, daily. Enjoy! [Subscribe to our Windows section to never miss an article: RSS Feed | E-mail]
Developers: Click here to get your apps featured here!
dotTechies: Want to see an app on here? Send us a tip!
Software for May 29, 2012
ImgBurn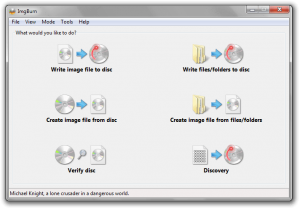 The disc image burning scene is fairly full of software that, for all intents and purposes, is alright. It does its job, and does it quick enough and has enough features. However, not many developers have such a wide variety of features as ImgBurn: it's the only disc suite you'll need, as it can burn, rip, build, and verify CDs and DVDs like a knife can cut through warm butter.
ImgBurn has a very simple and easy to use interface; its main features are all large buttons on the front screen of the app. It can write a disc image to a disc, write various folders/files to a disc, create a disc image from files and folders, create a disc image from a physical disc *gasp*, verify discs, and test the quality of your drive's burns.
To top it off, ImgBurn lets you configure everything and anything. From speeds to associated filetypes, ImgBurn is a great one-stop shop for burning, creating, and verifying discs and images.
Price: Free!
Version discovered: v2.5.7.0
Supported OS: Windows all
Download size: 5.8MB
VirusTotal malware scan results: 0/41
Portability: Requires installation (portable version in development)
PasswordResetter
Need to reset your Windows password? There are many tools out there that can help you. For instance, you can outright brute-force your password using Ophcrack. You can also outright obliterate your password with Offline NT Password & Registry Editor. However, both of these solutions aren't very optimal: Ophcrack takes a long time to run, and ONTPRE doesn't have a very friendly interface.
If you're in the market for a password resetting tool and you're willing to fork over a chunk of change, PasswordResetter could be for you. It's not the nicest of programs, and it may be violating a few open source license as it uses SysLinux and other open source projects to provide the bootable environment to reset, but it certainly works and is easier to use than other options.
In conclusion, PasswordResetter is basically a glorified ISO burner. In fact, if you navigate to the path you installed PR to, you can even find the ISO. However, it provides an interface to burn these ISOs, which is nice, and lets you burn it to either a disc or a thumbdrive.
Price: $34.99 / $59.95 / $89.99 / $159.95
Version discovered: v
Supported OS: Windows NT+
Download size: 43.1MB
VirusTotal malware scan results: N/A – file too large
Portability: Requires installation
WinToFlash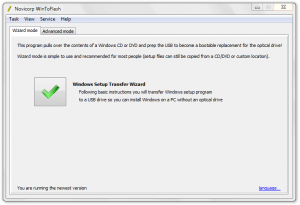 Recently I had to reinstall Windows on a friend's old netbook so she could sell it on Craigslist. It was a big pain, too: first, I tried to torrent a copy of Windows. That was a no go! Then I had to dig out my old Windows XP installation disc from my pile of CDs I was keeping for posterity. Better, but I still needed a way to get it onto the computer.
Then I came across WinToFlash. It's unlike a lot of Windows burning applications in that it can burn more than Windows Vista/7 to a thumb drive: Windows XP is perfectly supported too, meaning I don't have to give the terrible netbook an upgrade while I'm at it. It's also quite easy to use: you click the giant checkmark that appears on its main screen and you'll be put through a wizard that lets you select the disc drive and a thumb drive, and twenty minutes later, you'll have a perfectly operable thumb drive to install Windows from.
If you're looking to install Windows XP off of a thumb drive, there's really not much you can do other than use WinToFlash. It's useful for this purpose, but for other versions of Windows there are better applications available.
Note: at first run, it runs through a lot of settings and I wound up with an IE plugin. Watch out!
Price: Free!
Version discovered: v0.7.0048 Beta
Supported OS: Windows XP+
Download size: 9.2MB
VirusTotal malware scan results: 0/40
Portability: has some funky setup at first run, watch out
dotTechies: We have tested all the software listed above. However, Windows Software of the Day articles are not intended as "reviews" but rather as "heads-up" to help you discover new programs. Always use your best judgement when downloading programs, such as trying trial/free versions before purchasing shareware programs, if applicable.
Related Posts