Today's Software
Subscribe to our Windows section to never miss an article: RSS Feed | E-mail
About Windows Software of the Day
Windows has hundreds of thousands of programs. Because of this great volume and lack of a central store, software discovery (aka finding new and useful programs) is extremely difficult. With our Windows Software of the Day initiative, dotTech aims to change that. Everyday we post three programs, allowing our readers to discover new software, daily. Enjoy! [Subscribe to our Windows section to never miss an article: RSS Feed | E-mail]
Developers: Click here to get your apps featured here!
dotTechies: Want to see an app on here? Send us a tip!
Software for June 2, 2012
Nepflex Screen Recorder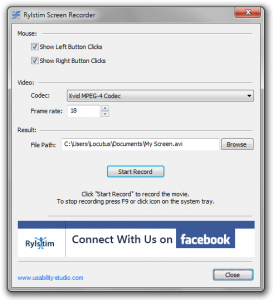 Recording your screen is something incredibly useful. It can be used to show off projects, to explain by example, and much much more. However, finding a high-quality and free screen recorder is a very difficult task. There's the free Camstudio, but its recording capabilities border on terrible, and it's always very laggy and has terrible compression. Entire Nepflex Screen Recorder, a free screen recorder that doesn't suck.
Nepflex uses the Xvid codec, meaning it has high levels of compression and yet low levels of artifacts. This is a double whammy of win. In fact, not only does Nepflex feature nice compression, it's fast, too. I used to have a nice little video here, but it drained my Dropbox public links. Sorry!
As you can see, Nepflex was nice and fast. It definitely had some issues where the graphics failed to update, but those are fairly minor, and other free recording software have them much much worse. It's a great solution to recording your screen and is entirely free, too!
Price:
Version discovered:
Supported OS:
Download size: 1.1MB
VirusTotal malware scan results: 0/40
Portability: Requires installation
Nepflex Screen Recorder homepage
Mail Notifier
Need to check your Gmail? Don't want to open a browser? Mail Notifier is definitely for you. It not only lets you check one account's email, but as many as you can possibly add, and does it all securely with HTTPS.
Mail Notifier is a very simple application. All it does it check for and display notifications for new email messages from Gmail or Google Apps accounts. Its simplicity also means that it's easy to translate, resulting in availability in 14 different languages, ranging from Turkish to Vietnamese. It also has a low memory footprint–under 6MB of RAM right now–so it can run on any computer that runs Windows 7.
If you're looking for a free Gmail notifier, Mail Notifier is an awesome app.
Price: Free!
Version discovered: Beta
Supported OS: Windows 7+
Download size: 1.3MB
VirusTotal malware scan results: 0/42
Portability: requires installation
Logon Screen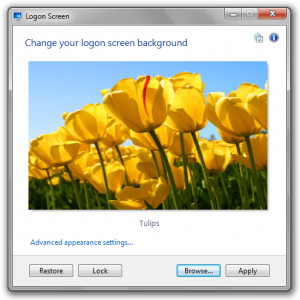 The Windows 7 logon screen is a fun thing to customize. Most people don't and wouldn't even begin to know how, so it provides a nice little way to personalize that's more unique than normal. However, apps like previously-seen Logon Changer aren't very well integrated into Windows and don't offer all of the functions that should be available. Logon Screen is different.
Logon Screen is very nicely integrated into Windows. When you right click pictures, for instance, instead of just being able to set a picture as your desktop background it will also offer to set it as your logon background. It also adds a Logon screen item to the desktop context menu, allowing you to quickly change things from there.
It also lets you change the text and button styles from the default opaque to light or dark shadows, which lets you blend your background better. It also lets you require users to press Ctrl+Alt+Del before they can log in, much like Windows Professional and Server do. It's all-around a very nice app and is very well designed.
Note: be sure to uncheck Incredibar during installation!
Price: Free!
Version discovered: v2.54
Supported OS: Windows 7
Download size: 2.0MB
VirusTotal malware scan results: 3/40
Portability: Requires installation
dotTechies: We have tested all the software listed above. However, Windows Software of the Day articles are not intended as "reviews" but rather as "heads-up" to help you discover new programs. Always use your best judgement when downloading programs, such as trying trial/free versions before purchasing shareware programs, if applicable.
Related Posts