Software Description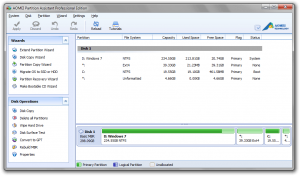 The following is a description of  AOMEI Partition Assistant Pro, as per the developer:
AOMEI Partition Assistant 5.0 is easy to use yet comprehensive partition manager software and disk management tool for Windows-based systems. It provides a set of integrated features to address your diverse needs with a high degree of data protection.

As Partition Magic alternative, AOMEI Partition Assistant brings the most popular hard disk partition management functions on MBR and GPT disk, including Partition Manager, Migrate OS to SSD or HDD, Disk & Partition Copy Wizard, Extend Partition Wizard and Partition Recovery Wizard with all hardware RAID supported. It has been widely used by companies and individuals all around the globe with fine reputation, because you're worth it!
You can see a more complete feature list on the developer's website.
dotTech Advice
AOMEI Partition Assistant is a nice partition manager, comparable to even EASEUS and Paragon at times. It also has the ability to copy partitions from one place to another, even across drives, and weighs in at under 3MB. A little over six months ago, Ashraf talked about a giveaway of AOMEI Partition Assistant v4.0, which still lacked some main features:
That said, Partition Assistant offers the basics and nothing more. Rival partition managers, such as EASEUS Partition Master and Paragon Software's partition managers, offer more features than Partition Assistant, albeit at the cost of having to download larger files. Most notably, Partition Assistant works with only NTFS/FAT/FAT32 file systems — no support for Linux or Mac partitions; and Partition Assistant has no ability to great a recovery disc, neither WinPE or Linux-based. Personally speaking, if I were to pick between between Aomei Partition Assistant and EASEUS Partition Master or a Paragon partition manager, I'd pick one of the latter two. (It should be noted free/home editions of EASEUS and Paragon products cannot be used for commercial/non-home use.)
In version 5.0 AOMEI has fixed that to some degree. It brings support for ext2 and ext3 partitions, which are used by many Linux systems. It still doesn't support ext4, which is the newest type of Linux partition, or HFS+, the standard Mac OS X partition type.
All together, AOMEI Partition Assistant isn't bad, but it's not the most amazing and featureful partition manager. Also of note, however, is that there's really not much of a difference between APA Home and Professional: the only listed differences are preferential support and "workstation support".
Freebie Details
AOMEI Partition Assistant Professional is being given out by Daily Software Giveaway.
Here's some information about the giveaway:
Version being given away: v5.0

Free updates: none
Free technical support: none

Supported OS: Windows 2000+
Download size: 3.5MB – 1/41
First, download and install AOMEI Partition Assistant Professional Edition v5.0. Then, visit the registration page. You'll need to enter an email address and get automatically subscribed to a mailing list, so you might want to use a service like Mailinator.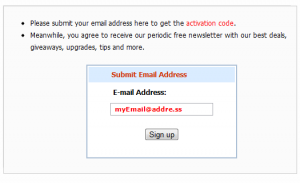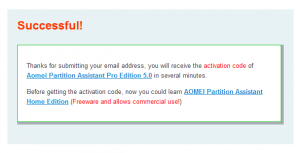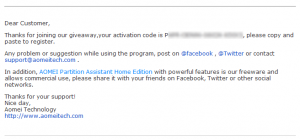 Once you've got the code, just paste it into the registration field…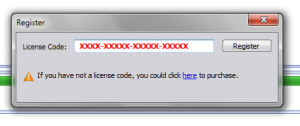 … hit register, and you're done!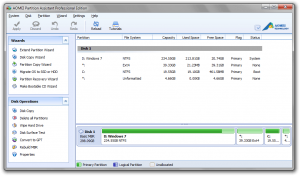 If you have trouble getting Aomei Partition Assistant Professional or Preview Edition for free, post below and other dotTechies or I will try to help.
Related Posts