Today's Software
Subscribe to our Windows section to never miss an article: RSS Feed | E-mail
About Windows Software of the Day
Windows has hundreds of thousands of programs. Because of this great volume and lack of a central store, software discovery (aka finding new and useful programs) is extremely difficult. With our Windows Software of the Day initiative, dotTech aims to change that. Everyday we post three programs, allowing our readers to discover new software, daily. Enjoy! [Subscribe to our Windows section to never miss an article: RSS Feed | E-mail]
Developers: Click here to get your apps featured here!
dotTechies: Want to see an app on here? Send us a tip!
Software for June 14, 2012
Accounts Tuner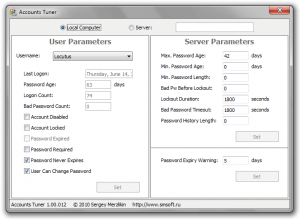 Windows provides control over user accounts, such as the ability to change profile pictures and passwords. If you're looking to fine-tune things a little, however, Windows' built-in settings aren't of much use. You can't unlock the built-in Administrator account, and you can't make passwords expire. If you're a security-conscious user, password expiration alone is worth looking for 3rd party tools.
Lucky for you, Accounts Tuner lets you tweak all of these things. It not only gives you statistics such as the age of your password and number of times you've logged in, it lets you lock and unlock accounts such as Administrator, as well as force your passwords to expire and change expiry time. It also lets you set various password restrictions: length, number of tries, timeout, etc.
Accounts Tuner is a nice little program for changing user accounts, especially password settings.
Price: Free!
Version discovered: v1.00a
Supported OS: Windows NT4.0+
Download size: 300KB
VirusTotal malware scan results: 0/42
Portability: Requires installation
NTFSWalker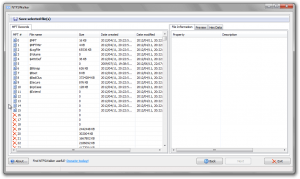 Want a program that lets you look at your file system in excruciating detail? NTFSWalker fits that bill perfectly. In its attempt to be complete, you may also get a little file recovery off the side of it, but that's really just an added benefit.
NTFSWalker is a little hard to explain, but as the developer puts it:
NTFSWalker has its own drivers for reading NTFS partitions. It bypasses the Windows file system drivers and reads your disk hardware directly! It allows you to view every record in your file system's MFT in excruciating detail. And I mean excruciating.
It also lets you browse and restore deleted files from NTFS volumes, which is quite nice for anyone who's ever tried to restore files: this program spares none of the detail.
Although it's a bit of an odd program, NTFSWalker lets you do a walkthough of your drive and recover deleted files.
Price: Free!
Version discovered: v0.1.1.121
Supported OS: Windows unknown
Download size: 587KB
VirusTotal malware scan results: 1/31
Portability: Entirely portable!
Temp Taskbar for Windows 7
Does your computer tend to run hot? Want to know when you need to be wary of it shutting itself down? Don't keep a fancy monitoring program open to such resources, just use Temp Taskbar for Windows 7, a free app that simply puts an indicator color behind the taskbar, as unobtrusive as can be.
Temp Taskbar is quite simple. The only settings are the warning and critical temperatures, as well as the colors that should be displayed. In my screenshot, the computer was at orange, which by default means that it is running somewhere between 60°C and 80°C. It's quite a nice program, and is quite simple and handy.
Price: Free! 
Version discovered: v1.1.0.0
Supported OS: Windows 7
Download size: 11.1KB
VirusTotal malware scan results: 0/42
Portability: Entirely portable!
Temp Taskbar for Windows 7 homepage
dotTechies: We have tested all the software listed above. However, Windows Software of the Day articles are not intended as "reviews" but rather as "heads-up" to help you discover new programs. Always use your best judgement when downloading programs, such as trying trial/free versions before purchasing shareware programs, if applicable.
Related Posts