Today's Software
Caps Lock Toggle: easily disable and reenable caps lock
ExtractNow: extract multiple archives quickly and easily
Handy Shortcuts: create shortcuts to oft-used tasks that don't normally lend themselves to shortcuts easily
Subscribe to our Windows section to never miss an article: RSS Feed | E-mail
About Windows Software of the Day
Windows has hundreds of thousands of programs. Because of this great volume and lack of a central store, software discovery (aka finding new and useful programs) is extremely difficult. With our Windows Software of the Day initiative, dotTech aims to change that. Everyday we post three programs, allowing our readers to discover new software, daily. Enjoy! [Subscribe to our Windows section to never miss an article: RSS Feed | E-mail]
Developers: Click here to get your apps featured here!
dotTechies: Want to see an app on here? Send us a tip!
Software for June 16, 2012
Caps Lock Toggle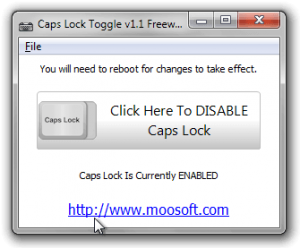 Want to render your caps lock key unusable so that NO ONE WILL EVER BE ABLE TO USE YOUR COMPUTER TO SHOUT AGAIN? Caps Lock Toggle is the dead-simple program you need to do that.
Caps Lock Toggle is extremely easy to use and provides no options whatsoever. The only buttons on the interface are the disable/reenable button and a link to the developer's site. Clicking the disable button will, upon reboot, result in your caps lock button no longer doing a thing.
If you know someone who loves to SHOUT ON THE INTERNET, please use this program. For the good of the internet, disable their caps lock for them. It's what's best for all of us.
Price: Free!
Version discovered: v1.1
Supported OS: Windows 2000+
Download size: 0.6-1.2MB
VirusTotal malware scan results: ZIP 0/41| EXE 0/43
Portability: Entirely portable!
Moosoft's webpage is currently offline. You can download CLT from Softpedia.
ExtractNow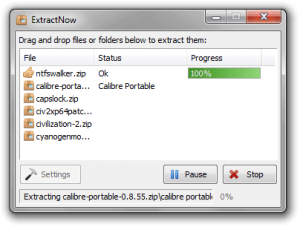 Want to quickly extract archives without worrying about format or settings? ExtractNow is the program for you, boasting an extract-only approach that allows you to not have to look at pages of settings to get things down. Using it is as simple as dragging files in and hitting Extract!
However, if you do feel like playing with settings, ExtractNow is also nice. You can change pretty much any aspect of the program you'd like, including how it extracts and where it extracts to. And, if you're feeling brave, you can even add format support using special commands!
ExtractNow doesn't slump on the format support, either. It boasts a long list, viewable on the developer's site, that includes ZIP, RAR, HFS, IMG, ISO, and tons more, and allows you to set it as the default file handler for any of them.
If you're looking for a sturdy un-archive program, there's really no reason to go with anything other than ExtractNow.
Note: ExtractNow comes with an opt-out toolbar! Be sure to pay attention during installation.
Price: Free!
Version discovered: v4.6.8.0
Supported OS: Windows 95+ with IE 5.5+
Download size: 1.8MB
VirusTotal malware scan results: 0/42
Portability: Portable version available
Handy Shortcuts
Want to create shortcuts to do various system tasks like lock your computer, switch user accounts, or open Device Manager? With only the tools Microsoft provided in Windows, it can be a bit tricky to get these things. Handy Shortcuts is an easy to use utility to get these.
Handy Shortcuts is quite simple. You open it and find the shortcut you need, click Create, and close it. The shortcuts will appear on your desktop, but you can move them to whatever location you want (even the Startup folder). You can create shortcuts to do a variety of tasks:
lock your computer
switch user accounts
shut down your computer
restart your computer
log off, hibernate
add shortcuts to show your desktop
open Add/Remove programs
open Windows Security Center
open Device Manager
start Windows Defender
open Windows DVD Maker
open Flip3d
open screen saver settings
disable/enable the firewall
clear the clipboard
open "God Mode"
open Connect to Internet
Safely Remove Hardware
As you can see, Handy Shortcuts boasts quite the shortcut list. With such a variety, there's something for everyone!
Price: Free
Version discovered: v1.o
Supported OS: Windows Vista+
Download size: 216KB
VirusTotal malware scan results: 0/40
Portability: Entirely portable!
dotTechies: We have tested all the software listed above. However, Windows Software of the Day articles are not intended as "reviews" but rather as "heads-up" to help you discover new programs. Always use your best judgement when downloading programs, such as trying trial/free versions before purchasing shareware programs, if applicable.
Related Posts