Today's Software
Subscribe to our Windows section to never miss an article: RSS Feed | E-mail
About Windows Software of the Day
Windows has hundreds of thousands of programs. Because of this great volume and lack of a central store, software discovery (aka finding new and useful programs) is extremely difficult. With our Windows Software of the Day initiative, dotTech aims to change that. Everyday we post three programs, allowing our readers to discover new software, daily. Enjoy! [Subscribe to our Windows section to never miss an article: RSS Feed | E-mail]
Developers: Click here to get your apps featured here!
dotTechies: Want to see an app on here? Send us a tip!
Software for June 17, 2012
JD's Auto Speed Tester
Are your internet speeds being uncooperative? Do you feel that your computer sometimes gets 30Mbps and sometimes gets 56kbps? Before doing anything else, you should use JD's Auto Speed Tester, a cool program that can automatically schedule tests for your internet connection.
JD's Auto Speed Tester is quite easy to set up. When you first open it, you can do one of three things: immediately run a test, configure the program, or set it to test periodically. If you choose to do tests, it'll find your average ping over a couple of seconds, test-download files, and test-upload files. Afterwards, it'll add a data point to the chart showing your ping, upload, and download speeds over time. You'll easily notice any discrepancies in the data over time.
JD's Auto Speed Tester is quite a comprehensive program, and for that it's nice. If you're looking to test your internet speeds over time, it's definitely a great program to try.
Price: Free!
Version discovered: v17.6
Supported OS: Windows XP+
Download size: 4.2MB
VirusTotal malware scan results: EXE: 3/41 | ZIP: 3/42
Portability: Requires installation
JD's Auto Speed Tester homepage
[via AddictiveTips]
Billy Mays Caps Lock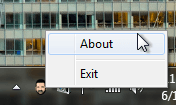 Hi! Billy Mays here. Have you been looking for something to do with that pesky Caps Lock key? It can get really annoying to hit the button, only to have your whites get whiter value halved text turn out all shout-y. Billy Mays Caps Lock fixes that problem with an interesting twist: instead of capitalizing letters, it shouts out one of four Billy Mays phrases.
It's not a terribly useful program, but if you're always hitting caps lock by accident you can probably train yourself not to with Billy Mays Caps Lock. It's free and requires no installation, so it's also a great one-time gag.
Price: Free!
Version discovered: v1.0
Supported OS: Windows unknown
Download size: 0.9-1.0MB
VirusTotal malware scan results: Portable 0/41 | Installer 0/43
Portability: Portable version available!
mStartEx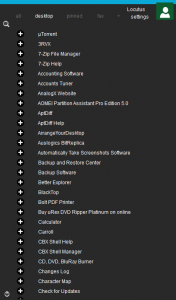 Metro is a new, unique experience, and one that's so far highly polarized the internet community. Personally, I am indifferent to it, but if you're one who loves the new design, mStartEx could interest you. It's a Metro-inspired start menu that is quite customizable.
Once you've started mStartEx, you can open it by just mousing over the bottom left part of your screen. A window much like the one to the right will pop up, allowing you to start every app in your start menu. You can add favorites, browse your desktop shortcuts, and access pinned programs, and you can customize its color, layout, and avatars.
mStartEx is a nice program, so long as you don't move too fast. It can be a bit buggy at times, often spitting up error messages and often having slight graphical glitches. However, even with all of these bugs and glitches, it still offers a nice take on the Metro start menu.
Price: Free with $1.25 upgrade
Version discovered: unknown
Supported OS: Windows XP+
Download size: 8.1MB
VirusTotal malware scan results: 0/41
Portability: Entirely portable!
[via askVG]
dotTechies: We have tested all the software listed above. However, Windows Software of the Day articles are not intended as "reviews" but rather as "heads-up" to help you discover new programs. Always use your best judgement when downloading programs, such as trying trial/free versions before purchasing shareware programs, if applicable.
https://www.virustotal.com/file/6b1ed74ba04f89727fd10be61a1f692161dede187a077021a9ee2d3a546c576b/analysis/1339914999/
Related Posts