Today's Software
UNetbootin: install a variety of Linux-based OSes onto a thumb drive
WinSetupFromUSB: install Windows 2000+ setup/UBCD4Win/Linux-based OSes onto a thumb drive
Snap!: take photos with goofy effects using your webcam
Subscribe to our Windows section to never miss an article: RSS Feed | E-mail
About Windows Software of the Day
Windows has hundreds of thousands of programs. Because of this great volume and lack of a central store, software discovery (aka finding new and useful programs) is extremely difficult. With our Windows Software of the Day initiative, dotTech aims to change that. Everyday we post three programs, allowing our readers to discover new software, daily. Enjoy! [Subscribe to our Windows section to never miss an article: RSS Feed | E-mail]
Developers: Click here to get your apps featured here!
dotTechies: Want to see an app on here? Send us a tip!
Software for June 18, 2012
UNetbootin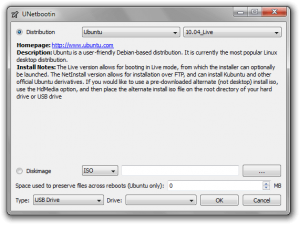 Looking to install a variety of Linux-based operating systems from your USB drive? UNetbootin is the universally accepted program for doing so, and for good reason. With UNetbootin, you can install just about any Linux operating system you want, either from within UNetbootin itself or by providing a downloaded ISO.
UNetbootin easily pumps the selected OS onto your thumb drive, allowing you to spend less time installing one and more time using one. It's great for making bootable GParted thumb drives, for example, and is great for trying out Ubuntu's hardware support on various computers.
If you plan on making your thumb drive your main drive, you can even use UNetbootin to create a space to save files over reboots. Though it only supports Ubuntu-based systems, it's still quite a handy feature.
If you're looking to create a bootable USB drive of just about any Linux-based OS, there's really no competition for UNetbootin. It's got a great feature set, and is extremely easy to use.
Price: Free!
Version discovered: 
Supported OS: Windows/Linux/OS X
Download size: 4.6MB
VirusTotal malware scan results: Windows version 0/42
Portability: No installation required!
WinSetupFromUSB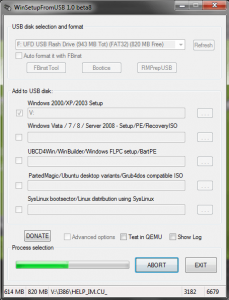 Want to reinstall Windows on a netbook? You're out of luck unless you've got a surprisingly expensive USB DVD drive. The only other option is to shoehorn Windows' installer onto a thumbdrive, and that's surprisingly difficult as well. And, once you've gotten the Windows installer onto the drive, if you want to install a different version of Windows, you'll need to wipe it and install an entirely new version.
WinSetupFromUSB solves this problem with an easy-to-use interface that allows you to install Windows 2000+ from a thumb drive, and even up to 99 versions on one drive. It also allows you to add BartPE/UBCD4Win/WinBuilder on a drive! To tell the truth, I used WinSetupFromUSB to reinstall a friend's old Aspire One, and didn't test any of the multi-installer features, but WinSetupFromUSB worked well for one and presumably would work great for multiple OSes.
Price: Free!
Version discovered: v1.0beta8
Supported OS: Windows unknown
Download size: 17.8MB
VirusTotal malware scan results: 3/35
Portability: WinSetupFromUSB
Snap!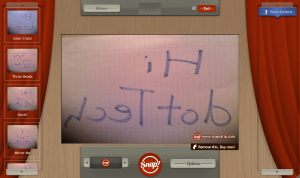 Want to take pictures with your webcam? There's plenty of software out there, but a lot of it doesn't include today's fancy effects and nice interface. Snap! is a nice little program that lets you add effects and even "stickers" to your images.
Snap! is a fairly nice program. It lets you choose effects that can distort your images, including one that can triplicate your head and one that is supposed to make you look fat, and effects that can distort the color, such as ones that make it faux-infrared and ones that make it quite colorful.
Now, the free version of Snap! is fairly limited. It only allows you to take 10 photos a day, and each photo will have a watermark in the corner.
Price: Free with $19.99 upgrade
Version discovered: unknown
Supported OS: Windows XP+
Download size: 8.2MB
VirusTotal malware scan results: 0/42
Portability: Requires installation
dotTechies: We have tested all the software listed above. However, Windows Software of the Day articles are not intended as "reviews" but rather as "heads-up" to help you discover new programs. Always use your best judgement when downloading programs, such as trying trial/free versions before purchasing shareware programs, if applicable.
Related Posts