Today's Apps
iDownloader Plus (Download lots of file types with the built-in browser)
MEander (Make your photo look like a caveman)
Blobster (Collect all items in each level as a blob)
Subscribe to our iOS section to never miss an article: RSS Feed | E-mail
About iOS Apps of the Day
iOS has over 600,000 apps. With so many apps out there, app discovery (aka finding new and useful apps) is extremely difficult. With our iOS Apps of the Day initiative, dotTech aims to change that. Everyday we post three apps, allowing our readers to discover new apps, daily. Enjoy! [Subscribe to our iOS section to never miss an article: RSS Feed | E-mail]
Developers: Click here to get your apps featured here!
dotTechies: Want to see an app on here? Send us a tip!
Apps for June 19, 2012
iDownloader Plus
iDownloader Plus allows you to browse web sites and download different content from those web sites you visit. This app gives you the power to download as many files as you want, and even the ability to download a file of unknown size. With the integrated web browser you can save bookmarks so you can go back to those sites quickly. This allows you do to background downloading, music background playing, save videos to photo album, and supports TV-Out. You can add, delete and modify your folders to organize your downloads better and send files as email attachments if you need it. You can also transfer the files you download to either WiFi or USB to recover space you might need on your device later. This app also uncompresses Zip files as well as support PDF, Word, and Excel in case you need to check the file out.
Version discovered: 2.0.0

Requires: iPhone/iPod Touch/iPad; iOS 4.0 and up

Download size: 25 MB

MEanderthal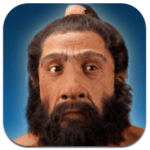 MEanderthal is made by the Smithsonian Institute and modifies the picture it is given and alters your appearance to look like certain types of cavemen. It might not look perfect when you use it because all it does is overlay the caveman look to the face, but it seems very entertaining to anyone that is a little curious how they might look if they were from the dawn of man. This app will automatically save the cropped picture after you line up the eyes to the template, and it also saves the final picture product automatically. Apparently there is no option of turning the autosave feature on or off.
Version discovered: 1.0

Requires: iPhone/iPod Touch/iPad; iOS 3.0 and up

Download size: 3 MB

Blobster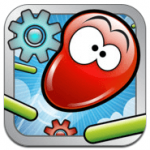 Blobster is a game that you collect items while avoiding other bad enemies and any other obstacles that are in your way. You move the blob and even create a "jump" which is just pulling the blob downward to give it that jump it needs. There are forty different levels you can play in the arcade mode.  As you progress through the game you will get to obtain the unlockable by completing so many different levels to where you will need to collect all colored items in each level to get 100%. Survival mode needs 75% completed which would add more dimension to try to finish the game with the other content that is included in the game. This game also has an easy to use tutorial when you start the game all together. In the lite version you get 10 levels and 3 cool bonus stages to try for free.
Price: $0.99; Lite: Free; HD: $1.99

Version discovered: 1.3; Lite: 1.0; HD: 1.3

Requires: iPhone/iPod Touch/iPad; iOS 3.1 and up; HD: iPad; iOS 3.2 and up

Download size: 18 MB; Lite: 16.9 MB;HD: 14.9 MB; HD Lite: 13.8 MB

dotTechies: We have tested all the apps listed above. However, iOS Apps of the Day articles are not intended as "reviews" but rather as "heads-up" to help you discover new apps. Always use your best judgement when downloading apps, such as trying trial/free versions before purchasing paid apps, if applicable.
Related Posts