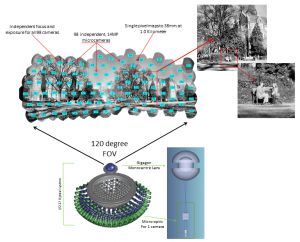 Are you still excited about the Nokia PureView camera (you know the phone that has a 41 megapixel camera)? If yes, it's time for you to checkout the AWARE-2, a gigapixel camera developed by the researchers at Duke and Arizona Universities.
Electrical engineers at the two universities had collaborated in a research which has just produced a promising product for the future. The huge camera built by them, which is about 2.5 feet high and 20 inches thick, promises to capture 50 gigapixels (equal to 50,000 megapixels) of data seemingly making the future of photography more exciting. The camera was developed by synchronizing 98 tiny cameras in a single device.
"The development of high-performance and low-cost microcamera optics and components has been the main challenge in our efforts to develop gigapixel cameras," says David Brady of Duke.

"While novel multiscale lens designs are essential, the primary barrier to ubiquitous high-pixel imaging turns out to be lower power and more compact integrated circuits, not the optics."
The researchers expect the camera to achieve a more efficient and compact physique within five years, making it available to the general public by then. The camera in its current design consists of only 3 percent optical elements with the rest consisting of electrical components. The miniaturization of electrical components has always been a challenge, with electronics engineers only recently achieving a lot in relatively short span of time. We can only hope to see similar developments towards making a hand-held, point-and-shoot gigapixel camera a reality soon.
Related Posts