Today's Software
SVPtube: play YouTube videos in your favorite video player
ExtremeCopy: get rid of Windows copying annoyances
TheFolderSpy: monitor folders for changes
Subscribe to our Windows section to never miss an article: RSS Feed | E-mail
About Windows Software of the Day
Windows has hundreds of thousands of programs. Because of this great volume and lack of a central store, software discovery (aka finding new and useful programs) is extremely difficult. With our Windows Software of the Day initiative, dotTech aims to change that. Everyday we post three programs, allowing our readers to discover new software, daily. Enjoy! [Subscribe to our Windows section to never miss an article: RSS Feed | E-mail]
Developers: Click here to get your apps featured here!
dotTechies: Want to see an app on here? Send us a tip!
Software for June 24, 2012
SVPtube
Want to stream YouTube videos in YOUR favorite media player? SVPtube lets you copy any YouTube URL and open it automatically in your choice of media player. Just copy and go, it's that easy!
Of course, YouTube videos are offered in a range of resolutions, and not all of us have graphics cards, screens, or internet connections that can play the best of them. SVPtube lets you choose your preferred resolution, ranging from a lowly 224p to an awesome 1080p. It also lets you choose your desired media player, opting by default to stick with the system default. You can also choose to have it ask what to do, as seen in the screenshot to the right.
SVPtube is a nice little program and is extremely lightweight, using only a few MB of RAM in my tests.
Price: Free!
Version discovered: v1.0.2
Supported OS:
Download size: 3.0MB
VirusTotal malware scan results: 0/42
Portability: No installation required!
[via AddictiveTips]
ExtremeCopy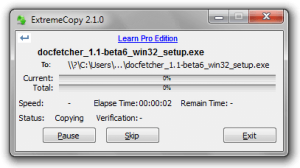 Want to copy files, but find Windows' built-in copy mechanism to be painfully slow and annoyingly unwilling to skip past errors? ExtremeCopy is one of a multitude of copy programs out there designed to fix the problems built into Windows.
In Raymond.cc's non-comprehensive speed tests, an earlier version of ExtremeCopy ("Pro" v1.5.1) scored first in the copying race, which is quite impressive. Though the non-Pro version is missing some features, such as failed copy recovery and copying to multiple destinations at once, it still has several handy features such as replacing the built-in Windows copy, making it much less painful than some other copy programs.
All together, ExtremeCopy is a very well-rounded copy program, and even the free version is quite nice.
Price: Free with $19.95 "Pro" version
Version discovered: v2.1.0/2.0.5
Supported OS: Windows XP+
Download size: 1.9-3.1MB
VirusTotal scan results: portable 0/41 | installer 1/42 | 64-bit installer 1/42
Portability: Portable version available!
[via AddictiveTips]
TheFolderSpy
Did that system-critical file that's never supposed to be modified get changed? I don't know, but if I'd been running TheFolderSpy, I would. It automatically detects changes in specified folders and files and can either execute a selected program, or send emails.
The email function, unfortunately, seems a little half-baked. There's no way to bundle messages, meaning that if ten files get modified at a time, then those ten files will create ten separate emails. You also can't include in the email how the files were modified, which is a bit odd. However, it's still useful to some degree.
TheFolderSpy is a nice little program if you find yourself needing to monitor folders and files for changes.
Price: Free!
Version discovered: v2.1.1.1
Supported OS: Windows XP+
Download size: 66KB
VirusTotal malware scan results: 0/42
Portability: No installation required!
[via Raymond.cc]
dotTechies: We have tested all the software listed above. However, Windows Software of the Day articles are not intended as "reviews" but rather as "heads-up" to help you discover new programs. Always use your best judgement when downloading programs, such as trying trial/free versions before purchasing shareware programs, if applicable.
Related Posts