Today's Apps
Subscribe to our iOS section to never miss an article: RSS Feed | E-mail
About iOS Apps of the Day
iOS has over 600,000 apps. With so many apps out there, app discovery (aka finding new and useful apps) is extremely difficult. With our iOS Apps of the Day initiative, dotTech aims to change that. Everyday we post three apps, allowing our readers to discover new apps, daily. Enjoy! [Subscribe to our iOS section to never miss an article: RSS Feed | E-mail]
Developers: Click here to get your apps featured here!
dotTechies: Want to see an app on here? Send us a tip!
Apps for June 25, 2012
HurricaneSoftware.com's iHurricane HD with Push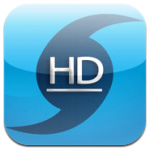 HurricaneSoftware.com's iHurricane HD with Push will keep you informed of any hurricanes in the Atlantic and Eastern Pacific Oceans. If you live in an area that is susceptible for hurricanes or if you are a weather enthusiast, this will keep track of any tropical storms or hurricanes in the bodies of water east and west of the United States which also includes the Gulf of Mexico. This app also tracks multiple storms on one map where you can interact with each storm to see the latest information. You can get email alerts with this app, but if you want push notifications you will have to pay $0.99 to activate this feature which also removes the ads from the app.
The features of this app include the latest coordinate active storm data, the distance from your location to storms location in miles and kilometers, the latest satellite information, national radar, and historical data on this seasons past storms. This app will also give you the most up to-date and reliable hurricane coordinates data and on a high resolution map. You will also get information on the storm such as the location, wind-speed, millibars and much more. The only thing that is missing is that they don't have information on where the eye of the storm is heading for the current storm it is tracking. Hopefully this is just a minor occurrence.
Version discovered: 3.2

Requires: iPhone/iPod Touch/iPad; iOS 4.2 and up

Download size: 2.2 MB

HurricaneSoftware.com's iHurricane HD with Push on iTunes
Banca – beautiful currency converter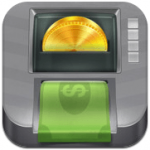 Banca – beautiful currency converter is a currency converter that will give you results of each conversion quickly. Every time you launch the app it automatically updates the exchange rates so you get the latest information to do your conversion. This app includes US Dollar, Great Britain Pound Sterling, Euro, Swiss Franc, Australian Dollar, Japanese Yen, Singapore Dollar, Hong Kong Dollar, and Serbian Dinar. Although these are the ones that are set as default when you launch the app for the first time, you can add more currencies as you like in the apps settings under manage currencies. The complete list of currencies this app uses is on the developer's page at http://radianttap.com/banca/currencies.php.
Version discovered: 2.1

Requires: iPhone/iPod Touch/iPad; iOS 4.0 and up

Download size: 6 MB

Banca – beautiful currency converter on iTunes
Cross Fingers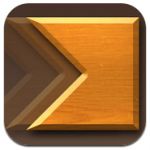 Cross Fingers is a puzzle app that all you do is drag the shapes to form on top of the hole to finish the level. As you progress you notice that you have to figure out how to finish the level just by how the shapes would go to fit the final shape you need to finish the level. You will also come across red looking shapes which you have to move away in order to move the shape you need through to the exit. The biggest thing about the red shapes is that you have to hold your finger on the shape as you move it away in order for you to move the white shape through. This gets challenging as you continue in the game when you have to move two or more at a time which you may have to use two hands in order to pass that level.
There are 570 levels for you to complete which you have to unlock with stars.  Each level is one star and there are some groups later on that will unlock with three stars. It is unclear if you complete all the levels up to the locked one that the locked ones will open up for you. The instructions say that you get 3 stars by unlocking each puzzle pack or according to the app's page you can pay for a varying number of stars for their set price. When you first launch the app, you get three stars, but for some reason when the first puzzle pack was completed there were no stars given.
The Arcade mode gets unlocked after you complete the easy puzzle pack where you play for an unlimited amount of time where you have to put the shapes you are given into the center hole to continue. In that stage you have to think very fast otherwise the shapes will lock up, and the game is over. You can also try out the game free with the free version of this game which only includes the easy puzzle pack of 30 stages.
Version discovered: 2.0.0

Requires: iPhone/iPod Touch/iPad; iOS 3.0 and up

Download size: 13 MB

dotTechies: We have tested all the apps listed above. However, iOS Apps of the Day articles are not intended as "reviews" but rather as "heads-up" to help you discover new apps. Always use your best judgement when downloading apps, such as trying trial/free versions before purchasing paid apps, if applicable.
Related Posts