Today's Software
Unassoc: remove user and global file type associations
Agent Ransack: find text in multiple files, including document files
Anuran: keep a running personal frlog
Subscribe to our Windows section to never miss an article: RSS Feed | E-mail
About Windows Software of the Day
Windows has hundreds of thousands of programs. Because of this great volume and lack of a central store, software discovery (aka finding new and useful programs) is extremely difficult. With our Windows Software of the Day initiative, dotTech aims to change that. Everyday we post three programs, allowing our readers to discover new software, daily. Enjoy! [Subscribe to our Windows section to never miss an article: RSS Feed | E-mail]
Developers: Click here to get your apps featured here!
dotTechies: Want to see an app on here? Send us a tip!
Software for June 25, 2012
Unassoc
Do you really not want ExtremeUnzipper Pro to open up when you double click on a RAR file, but 7-zip to open up when any other users on your computer open one? This seems like a file type association issue. Unassoc is a handy little tool to fix just that.
Unassoc is extremely easy to use. You just open it, and find the troublesome file extension. Then, you can choose to remove just your user's association, or the entire system's knowledge of that filetype ("Delete file type"). Choosing to delete your personal association is fairly harmless, but be careful when deleting the system association, as it also messes with the Open With dialog.
Unassoc is one of those tools that can come in handy in a limited number of situations, but can be quite handy when needed.
Price: Free!
Version discovered: v1.4
Supported OS: Windows Vista+
Download size: 52KB
VirusTotal malware scan results: 0/42
Portability: No installation required!
[via Raymond.cc]
Agent Ransack
Want to find a certain document hidden somewhere in My Documents? Agent Ransack is a free program that will let you search every file in any given folder on your computer for key phrases.
Agent Ransack is quite the utility. It lets you narrow down your search, allowing you to select a range of filesizes, modified dates, file name, and of course containing text. It's essentially a really comprehensive version of Windows search, but without indexing. And, if you're proven in regex, you can use your favorite expressions to find certain files, either by content or by filename.
Agent Ransack searches in any text-based document, PDF documents, and Office documents. This makes it a great tool for searching for files on your local computer.
Price: Free with $39 "Pro" version
Version discovered: v
Supported OS: Windows 2000+
Download size: 2.9-3.9MB
VirusTotal malware scan results: 64-bit: 0/42 | 32-bit: 0/42
Portability: Requires installation
Anuran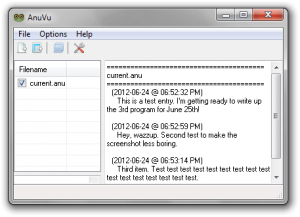 Do you like to or want to keep logs on your daily computer activity, but have no idea how to do it well? Anuran is a nice, automatic piece of software that'll let you do just that.
Anuran is super easy to use. After starting it up, it'll prompt you every half hour to make a new entry. Of course, if you want to make a new entry now, you can always do that easily by just clicking on the system tray icon. Anuran also supports multiple "databases" and lets you easily export them to both TXT and CSV, making moving your log and keeping your log quite easy.
Though not the most beautiful program in the world, Anuran is one of those rare pieces of software that I like well enough to not immediately delete after downloading. It's actually quite nice, and is a great idea for anyone who spends too much time on the computer anyway like me.
Price: Free!
Version discovered: v1.0.31
Supported OS: Windows unknown
Download size: 1.1MB
VirusTotal malware scan results: 1/42
Portability: No installation required!
dotTechies: We have tested all the software listed above. However, Windows Software of the Day articles are not intended as "reviews" but rather as "heads-up" to help you discover new programs. Always use your best judgement when downloading programs, such as trying trial/free versions before purchasing shareware programs, if applicable.
Related Posts