Today's Apps
Flipboard [Follow your favorite news websites, blogs, etc. using a magazine-inspired interface]
Markers [A simple, pressure-sensitive, multitouch drawing app]
Alive Video Wallpaper [Fifteen "video" wallpapers of scenes of nature]
Subscribe to our Android section to never miss an article: RSS Feed | E-mail
About Android Apps of the Day
Android has over 450,000 apps. With so many apps out there, app discovery (aka finding new and useful apps) is extremely difficult. With our Android Apps of the Day initiative, dotTech aims to change that. Everyday we post three apps, allowing our readers to discover new apps, daily. Enjoy! [Subscribe to our Android section to never miss an article: RSS Feed | E-mail]
Developers: Click here to get your apps featured here!
dotTechies: Want to see an app on here? Send us a tip!
Apps for June 26, 2012
Flipboard
Have not decided upon a news aggregation app, yet? Maybe Flipboard is more your style.
Flipboard is an award winning news aggregation app that was originally on iOS but has recently been ported to Android. Like other news aggregators, Flipboard allows users to follow their favorite news websites, online magazines, blogs, RSS feeds, etc. What makes Flipboard different than the competition, however, is its magazine-inspired "flip" interface: you "flip" through pages of Flipboard, much like you would flip through a magazine except in the vertical direction.
Other features of Flipboard include: categorization of news articles into twelve different topics, making it easy for uses to pick which ones they are interested in (and you have the ability to add any specific websites or blog or RSS feed or even hashtags and Twitter accounts by searching for it, if you don't like the ones provides in the categories); ability to connect to social networks (Twitter, Facebook, Instagram, Google+, YouTube, LinkedIn, Flickr, 500px, Sina Weibo and Renren); ability to save articles for offline reading using Instapaper, Pocket, or Readability; ability to connect and sync with Google Reader; and the ability to sync Flipboard settings across multiple devices by creating a free Flipboard account.
Take note currently Flipboard is not optimized for tablets.
Price: Free
Version discovered: v1.8.4
Requires: Android 2.2 and up
Download size: 2.6 MB
Markers
dotTech has featured many drawing apps in the past. If you have not yet found any to your liking because of how complicated and complex they are, Markers may be more your style.
Markers is a drawing app that stands out with three characteristics. Firstly, it is extremely simple. It only has one tool – a brush – and for that brush there are only three settings you can customize: brush tip, tip radius, and color. Secondly, Markers is pressure-sensitive making it a bit easier to draw with than other apps (or in theory, at least — I honestly don't fully understand what difference pressure sensitivity makes). Lastly, Markers supports multitouch, allowing up to five simultaneous touches on phones and ten simultaneous touches on tablets.
Other features of Markers include undo and new canvas buttons; quick save button; ability to load a photo and draw on the photo; and the ability to export drawings to any apps that accepts image inputs, such as Gmail, messaging, etc.
Price: Free
Version discovered: v1.0
Requires: Android 2.0 and up
Download size: 256 KB
Alive Video Wallpapers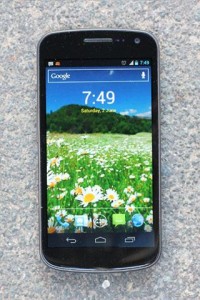 Alive Video Wallpapers is an app that provides users with fifteen "video" wallpapers based on nature. What is different about this app isn't necessarily the scenic wallpapers, although some of them are fairly gorgeous. Rather it is the fact that Alive Video Wallpapers runs "video" wallpapers not your standard live wallpaper. I'm not too sure on exactly what are the advantages and disadvantages of using a video wallpapers versus a standard live wallpaper but the developer sure tries to use it as a selling point for this app.
In any case, as already mentioned Alive Video Wallpapers has fifteen video wallpapers which you can use: Drops, Beach, Pool, CoralReef, Topical Ireland, Wheat, Trees, Bluebell Forest, Meadow, Autumn, Snow, Desert, NightValley, Fire, and Tidal. Drops is the one that comes with the device whereas you must manually download the other ones if you want to use them (i.e. you need an Internet connection).
The developer of Alive Video Wallpapers states the video wallpapers stop playing when another app is running or your device is idle, so it shouldn't drain your battery too much. Still, though, keep an eye out for battery drain if you download this app.
Take note that Alive Video Wallpapers may not work on all Android devices.
Price: Free
Version discovered: v1.0.1
Requires: Android 2.0 and up
Download size: 9.7 MB
Alive Video Wallpapers on Play Store
dotTechies: We have tested all the apps listed above. However, Android Apps of the Day articles are not intended as "reviews" but rather as "heads-up" to help you discover new apps. Always use your best judgement when downloading apps, such as trying trial/free versions before purchasing paid apps, if applicable.
Related Posts