Today's Apps
Subscribe to our iOS section to never miss an article: RSS Feed | E-mail
About iOS Apps of the Day
iOS has over 600,000 apps. With so many apps out there, app discovery (aka finding new and useful apps) is extremely difficult. With our iOS Apps of the Day initiative, dotTech aims to change that. Everyday we post three apps, allowing our readers to discover new apps, daily. Enjoy! [Subscribe to our iOS section to never miss an article: RSS Feed | E-mail]
Developers: Click here to get your apps featured here!
dotTechies: Want to see an app on here? Send us a tip!
Apps for June 26, 2012
Easy Calendar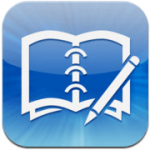 Easy Calendar is a calendar you can view the week you are on or any other future weeks in the style that you would get from a day planner. You can create new calendar entries with three rather than six taps, and even edit your entry with just two rather than five taps. When you rotate the device your view changes from one week to three weeks (past, current, and next). This app allows you to quickly switch to another week so you can view something in the future, however it would have been good to see some sort of highlight for any future entry you have for that specific day in the basic month view.
This app integrates with the devices calendar and brings over anything that has been created into this app. This calendar also synchronizes with other things like iCloud, MobileMe, Outlook, Google Calendar and other CalDAV calendars using the native iPhone features. You can also hide specific calendars and activate or deactivate the event alerts. If you have iOS 5.0 and up, you can also create and edit your own calendars.
Version discovered: 2.0.1

Requires: iPhone/iPod Touch/iPad; iOS 4.0 and up

Download size: 4 MB

PlainText – Dropbox text editing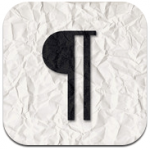 PlainText – Dropbox text editing is a basic text editor that you can create and save using this app which you can synchronize it with Dropbox for safe keeping. You can create folders to keep your text documents organized, and it has a paper-like interface that keeps you focused on what you are typing in the text document. The document's name will always be centered at the top with a line separating from the file name to the body which is going to be what is in your text document. The Dropbox integration has some automatic settings that will place your text documents under a folder called PlainText. If you want to change this name you should do so before you synchronize with DropBox. The ads can be unlocked with an in-app purchase of $1.99.
Version discovered: 1.6

Requires: iPhone/iPod Touch/iPad; iOS 4.0 and up

Download size: 4.2 MB

PlainText – Dropbox text editing on iTunes
Fish Crackers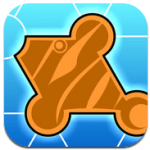 Fish Crackers is a puzzle game that you have to place certain fish looking puzzle pieces to fit a shape. You can move, rotate and bump pieces as you place them in the spot they are supposed to go, and some puzzles give you from three to nine pieces to place in the shape you are given. You can also play in portrait and landscape views, have guest players playing, earn stars for each solved puzzle, and Game Center will keep track of your achievements and leader boards. If you have iOS 5.0 and up, you can use iCloud to sync all of your devices so that you will continue playing from where you left off instead of having multiple games going on at one time with the same iTunes account.
This app just recently changed from being a paid app to a free app with ads, and the app's page does specify that there are 400 puzzles. There are only 50 that are unlocked so if you want the full 400 you'd have to pay for the Deluxe version of the game as someone has said in one of the reviews. You can also remove ads for $0.99 as well. Also since they have released the Deluxe edition with this new ad supported app, they have lowered the price temporarily (as of this writing) down 67% off the normal price.
Price: Free (Ad supported); Deluxe: $2.99

Version discovered: 1.1

Requires: iPhone/iPod Touch/iPad; iOS 4.0 and up

Download size: 6.8 MB

Fish Crackers Deluxe on iTunes
dotTechies: We have tested all the apps listed above. However, iOS Apps of the Day articles are not intended as "reviews" but rather as "heads-up" to help you discover new apps. Always use your best judgement when downloading apps, such as trying trial/free versions before purchasing paid apps, if applicable.
Related Posts