Today's Software
Subscribe to our Windows section to never miss an article: RSS Feed | E-mail
About Windows Software of the Day
Windows has hundreds of thousands of programs. Because of this great volume and lack of a central store, software discovery (aka finding new and useful programs) is extremely difficult. With our Windows Software of the Day initiative, dotTech aims to change that. Everyday we post three programs, allowing our readers to discover new software, daily. Enjoy! [Subscribe to our Windows section to never miss an article: RSS Feed | E-mail]
Developers: Click here to get your apps featured here!
dotTechies: Want to see an app on here? Send us a tip!
Software for June 27, 2012
ControlC
Want to manage your clipboard history from a well-designed, easy-to-use interface? ControlC is one of many possible programs for just that task. It has many advanced features and interesting quirks that help it stand out from the crowd, too.
When you start up ControlC, you'll notice that there's no real manager window. When you view your history, it actually opens as a web page inside your default browser, and has an entire webserver going to serve RSS, search, and a nice looking front end.
Speaking of search, it features quite a nice advanced search engine. This engine allows you to search by keyword, copy type, time, and even the web page or window it was copied from. It's really quite a nice search engine, and it alone helps make ControlC stand out above the rest.
ControlC is a nice little clipboard history program that features quite the nice interface, and some special features such as an advanced search and even RSS.
Price: Free!
Version discovered: 
Supported OS: Windows XP+
Download size: 2.1MB
VirusTotal malware scan results: 1/41
Portability: Requires installation
[via The Windows Club]
WinSplit Revolution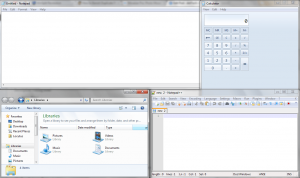 Want to resize your windows to fully maximize workable area and useful space? Though WindowPad, which we covered yesterday, is adequate for that task, if you want even finer grain control over your windows, WinSplit Revolution is the program for the job.
WinSplit comes with easily reconfigurable shortcuts, including the ability to make windows go to corners, sides, and the top/bottom. And, the best part about it is that if you tap the shortcut key more than once, it adjusts size even more. As you can see to the right, Notepad++ is one width while Calculator is another. There's even another width in between that you can access simply by tapping the shortcut again.
WinSplit also has the ability to move windows from one screen to the next and back, which in itself is quite useful, and can even maximize windows only horizontally and vertically. If you're looking to expertly manage your windows, WinSplit Revolution is a really great piece of software that will get the job done in seconds flat.
Price: Free!
Version discovered: v11.04
Supported OS: Windows 2000+
Download size: 1.5MB
VirusTotal malware scan results: 0/42
Portability: Select "portable" during installation!
CrystalDiskInfo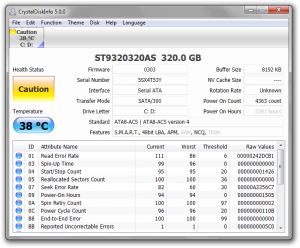 If you suspect your hard drive is dying, it's Crucial that you know just how long you have before the Seagates burst all over your Buffalo-encrypted data. However, there's no good tool built into Windows to show you the health of your drive. CrystalDiskInfo is that missing tool, and it's actually quite detailed.
CDI works by detecting the number of bad and "pending" sectors on your drive. If there are bad/pending sectors, it means that your drive has already begun to start to fail, and while it's not too big of a deal if your drive only has a few, it can certainly pay to be cautious.
If CDI comes up with your drive status as Cautious, please be careful and be sure to back up any important data! The same goes for drives in good condition, although they are certainly less prone to fail.
In conclusion, CrystalDiskInfo can provide a good confirmation of a failing drive, and can definitely serve as a reminder to please back up.
Price: Free!
Version discovered: v5.0.0
Supported OS: Windows 2000+
Download size: 1.6MB
VirusTotal malware scan results: 1/40
Portability: Requires installation
[via the comments]
dotTechies: We have tested all the software listed above. However, Windows Software of the Day articles are not intended as "reviews" but rather as "heads-up" to help you discover new programs. Always use your best judgement when downloading programs, such as trying trial/free versions before purchasing shareware programs, if applicable.
Related Posts