Today's Software
Subscribe to our Windows section to never miss an article: RSS Feed | E-mail
About Windows Software of the Day
Windows has hundreds of thousands of programs. Because of this great volume and lack of a central store, software discovery (aka finding new and useful programs) is extremely difficult. With our Windows Software of the Day initiative, dotTech aims to change that. Everyday we post three programs, allowing our readers to discover new software, daily. Enjoy! [Subscribe to our Windows section to never miss an article: RSS Feed | E-mail]
Developers: Click here to get your apps featured here!
dotTechies: Want to see an app on here? Send us a tip!
Software for June 29, 2012
VisiPics
Do you have two folders containing mostly the same photos, where one folder might have a few the other doesn't have? That is one of the most annoying aspects of organizing photos. Luckily, you can easily clean them up with VisiPics.
VisiPics is quite easy to use. You first select and order folders by importance, and then select a similarity filter. You can go for only exact matches, close matches, or fairly loose matches, depending on what you want. After it scans (which can take quite some time for larger collections), you'll be able to hand-mark the duplicates you wish to have destroyed.
Note that, because VisiPics is automated deletion software, you should always have a backup before running it, no matter how certain you are it doesn't have any false matches.
Price: Free!
Version discovered: v1.30
Supported OS: Windows 2000+
Download size: 1.9MB
VirusTotal malware scan results: 0/32
Portability: Requires installation
Mosaizer Pro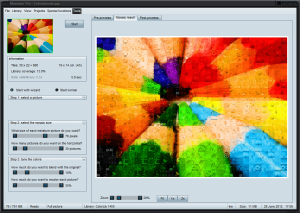 Mosaics are cool! However, there's not much good software out there to make them. Mosaizer Pro is one of the few nice, free pieces of software for just that purpose.
Mosaizer Pro is free, despite its "Pro" connotation. It allows you to easily pull in an image and a library (either a built-in one or a custom set of images) to create a mosaic. When setting it up, you'll get more noticeable effects if you decrease the blend and increase the size of each image.
Mosaizer is overall quite a nice mosaic program, and its fine controls make it something you could play with for hours to get the perfect result.
Note: Mosaizer Pro comes with some nude imagery on first run, specifically Edvard Munch's Madonna. If you do not wish to see such imagery, go to C:\ProgramData\APP\Mosaizer Pro\Sources\ and delete Madonna.jpg.
Price: Free!
Version discovered: v9.2b147
Supported OS: Windows unknown
Download size: 10.4MB
VirusTotal malware scan results: 0/41
Portability: Requires installation
[via AddictiveTips]
RAM CPU Taskbar for Windows 7

Want to keep an eye on your CPU and RAM usage without cluttering your computer's screen? RAM CPU Taskbar discretely hides your current usage behind the taskbar, making it both easy and unintrusive to tell how much your computer is being taxed.
By default, RAM CPU Taskbar put the RAM on the right and the CPU on the left. You can easily move the CPU to the right side, though, so it overlaps the RAM, and it helps unify the reading experience. Every time the program polls for an update, you'll see the colored bars moving. If they get too high, they'll change colors to warn you, going from green to yellow to red in the case of the RAM.
RAM CPU Taskbar is quite a simple program, and it fulfills a hole in Windows monitoring software.
Price: Free!
Version discovered: v1.6.2
Supported OS: Windows 7
Download size: 17.3KB
VirusTotal malware scan results: 0/42
Portability: No installation required!
RAM CPU Taskbar for Windows 7 homepage
dotTechies: We have tested all the software listed above. However, Windows Software of the Day articles are not intended as "reviews" but rather as "heads-up" to help you discover new programs. Always use your best judgement when downloading programs, such as trying trial/free versions before purchasing shareware programs, if applicable.
Related Posts