Today's Software
Right Click Context Menu: add items to desktop and Explorer context menus
KillKeys: disable keys such as the Windows key either when gaming or all the time
TinyWall: reinforce Windows Vista and Windows 7's built-in firewall
Subscribe to our Windows section to never miss an article: RSS Feed | E-mail
About Windows Software of the Day
Windows has hundreds of thousands of programs. Because of this great volume and lack of a central store, software discovery (aka finding new and useful programs) is extremely difficult. With our Windows Software of the Day initiative, dotTech aims to change that. Everyday we post three programs, allowing our readers to discover new software, daily. Enjoy! [Subscribe to our Windows section to never miss an article: RSS Feed | E-mail]
Developers: Click here to get your apps featured here!
dotTechies: Want to see an app on here? Send us a tip!
Software for June 28, 2012
Right Click Context Menu
Windows 7 actually has native support for adding programs and websites to the desktop and Windows Explorer context menu. However, nowhere in Windows are there any settings for adding programs to the menu. Luckily, you can change that with Right Click Context Menu, a free tool from AskVG.
Adding programs, websites, folders, or even files to the context menu is extremely easy with RCCM. Just select the type, browse for or paste in the location, and optionally add an icon. Then, select where you want it to appear and click Add. The changes instantly appear, with no need to restart Windows Explorer.
With Right Click Context Menu, adding programs, websites, folders, and files to the context menu is easier than ever. Now there's no reason not to!
Price: Free!
Version discovered: v2.0
Supported OS: Windows 7+
Download size: 784KB
VirusTotal malware scan results: 0/42
Portability: No installation required!
Right Click Context Menu homepage
[via The How-To Geek]
KillKeys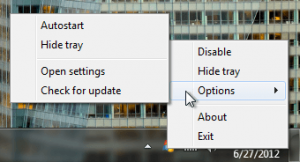 Picture this: you're about to win a game, when you accidentally hit the annoying and useless Windows key. Your screen goes black as your computer struggles to keep up, and after a few seconds your desktop appears. By the time you've gotten back to the game, you're dead and lying on the ground. KillKeys can prevent this by disabling any key of your choosing, either all the time or when fullscreen applications are running.
To configure KillKeys, start the program and select Options>Open settings from the system tray. Look for the lines labeled Keys and Keys_Fullscreen.
You can choose any key from this list, or just a simple letter/number/symbol from your keyboard. If you opt for the list route, just find the key you're looking for (ex: the left Windows key, 0x5B) and remove the 0x part (ex: 5B). Then add that to the configuration file, save it, and restart KillKeys. Try your disabled button: like magic, it doesn't work. Or, if you added only to the Keys_Fullscreen list, open a full screen game and try your button. No more accidentally hitting the wrong key and losing the game!
KillKeys is a super-simple app, and though configuring it may be a bit annoying, it's an awesome way to ensure you don't accidentally mess up while gaming.
Price: Free!
Version discovered: v1.2
Supported OS: Windows unknown
Download size: 16-123KB
VirusTotal malware scan results: 0/43
Portability: Portable version available!
[via Addictive Tips]
TinyWall
Firewalls are quite important, but many of them slow down your computer with their many drivers, kernel pieces, and random cruft that's been added on throughout the years. TinyWall takes a different approach to controlling network traffic, instead opting to piggyback on Windows' built-in firewall.
TinyWall is quite restrictive by default, restricting access to only whitelisted programs. (Major browsers are whitelisted by default.) If you need to add to the whitelist, that's also easy; the system tray icon provides easy options for whitelisting the current program or other programs. TinyWall also allows you to block certain types of internet traffic, such as Remote Desktop and File/Printer Sharing.
If you're feeling the need for complete network control, TinyWall can quickly block all, block all incoming, be entirely disabled, be in normal mode, or even automatically learn what programs you want communicating. All in all, TinyWall is a very impressive firewall that deserves a nice shoutout.
Price: Free!
Version discovered: v2.0
Supported OS: Windows Vista+
Download size: 1.0MB
VirusTotal malware scan results: 0/42
Portability: Requires installation
[via Ghacks]
dotTechies: We have tested all the software listed above. However, Windows Software of the Day articles are not intended as "reviews" but rather as "heads-up" to help you discover new programs. Always use your best judgement when downloading programs, such as trying trial/free versions before purchasing shareware programs, if applicable.
Related Posts