Today's Software
Our Secret: hide files and messages using steganography
VarieDrop: easily resize images into multiple formats and/or sizes
Subscribe to our Windows section to never miss an article: RSS Feed | E-mail
About Windows Software of the Day
Windows has hundreds of thousands of programs. Because of this great volume and lack of a central store, software discovery (aka finding new and useful programs) is extremely difficult. With our Windows Software of the Day initiative, dotTech aims to change that. Everyday we post three programs, allowing our readers to discover new software, daily. Enjoy! [Subscribe to our Windows section to never miss an article: RSS Feed | E-mail]
Developers: Click here to get your apps featured here!
dotTechies: Want to see an app on here? Send us a tip!
Software for June 30, 2012
Our Secret
By now, you've probably heard about steganography, a technique used to hide information in plain site, and seen several free steganography tools. However, they may have looked too complicated to you. If they did, Our Secret may be the tool for you. It promises to hide your data in just three clicks!
There are actually more than three clicks when you're using Our Secret, but it remains quite simple. First, you select a file to hide your secrets in. Then you can choose both files and messages to hide inside of the file. Lastly, you enter your password and go!
Decrypting hidden m Wiessages is quite similar. You load up a file, type in the password, and you're on your way to using the hidden files or reading the hidden messages.
Our Secret is an easy to use and free tool for hiding your data with steganography.
Price: Free!
Version discovered: v2.5
Supported OS: Windows XP+
Download size: 1.6MB
VirusTotal malware scan results: 0/42
Portability: Requires installation
[via Raymond.cc]
VarieDrop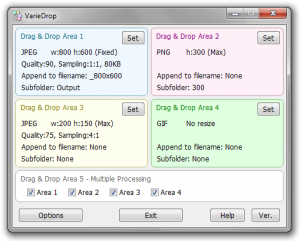 Do you deal with resizing images on a daily basis? I do, as I have to upload and resize three or more screenshots a night for Windows Software of the Day. VarieDrop is a free program meant to help with that sort of thing, enabling you to create four unique "drop zones" to facilitate easy format and size changes.
VarieDrop lets you choose the filetype, quality, size, and more over each drop zone, letting you create four easy-to-use zones that are customized to your needs. Unfortunately, the output folder is only controlled on a global basis, with no option to override it. You can, however, send files to subfolders, which is nice.
VarieDrop is an all-around great image resizing tool. The only things that are really missing is the ability to set a per-zone output folder, and even that is mitigated slightly by being able to set a per-zone subfolder.
Price: Free!
Version discovered: v1.1.2.0
Supported OS: Windows XP+
Download size: 217-727KB
VirusTotal malware scan results: EXE: 0/39 | ZIP: 1/39
Portability: ZIP version is portable!
[via Ghacks]
dotTechies: We have tested all the software listed above. However, Windows Software of the Day articles are not intended as "reviews" but rather as "heads-up" to help you discover new programs. Always use your best judgement when downloading programs, such as trying trial/free versions before purchasing shareware programs, if applicable.

Related Posts