Today's Software
Core Temp: monitor processor temperature and more
WSUS Offline Update: download Windows updates on one computer and install them on another
SharpKeys: remap keys so you don't ACCIDENTALLY HIT CAPS LOCK
Subscribe to our Windows section to never miss an article: RSS Feed | E-mail
About Windows Software of the Day
Windows has hundreds of thousands of programs. Because of this great volume and lack of a central store, software discovery (aka finding new and useful programs) is extremely difficult. With our Windows Software of the Day initiative, dotTech aims to change that. Everyday we post three programs, allowing our readers to discover new software, daily. Enjoy! [Subscribe to our Windows section to never miss an article: RSS Feed | E-mail]
Developers: Click here to get your apps featured here!
dotTechies: Want to see an app on here? Send us a tip!
Software for July 1, 2012
Core Temp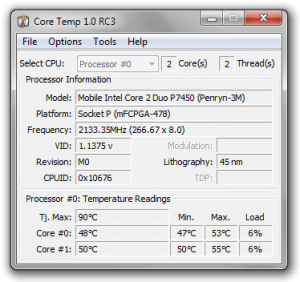 Want to see the temperatures of your computer's cores as they fluctuate, in real time? Core Temp is a free program that can do just that, and do it without having much of a footprint at all. Best of all, you can even monitor it remotely from your Android smartphone.
After starting Core Temp, you'll find the taskbar icon showing the temperature as a progress bar, and icons in your system tray with numerical temperature values. There's one for every core, so if you have a dual-core system you'll have two.
You can read instructions on setting up monitoring on your Android smartphone on the program's official forums.
All in all, Core Temp is a great little program for monitoring system temperature. You simply have to be careful when downloading it, as the main download is actually a bundled installer. I've split up the download section below to avoid the bundle and provide links straight to the standalone installer and portable versions.
Price: Free!
Version discovered: v1.0 RC3
Supported OS: Windows 
Download size: 1.5MB
VirusTotal malware scan results:

Portability: Portable version available!
Downloads:
Thanks Zapped Sparky!
WSUS Offline Update
Do you have parents who, for some reason, have a computer without an internet connection? Or, maybe you have ten computers in your house and don't want to have to download the same updates for them ten times. In either case, WSUS Offline Update can help.
To download updates, open WSUS and check the boxes by the updates you want downloaded. For instance, if you wanted Windows XP French, Windows Vista Chinese, Office 2007 Italian, and Windows 7 English, you'd need to check the boxes by their respective versions. (Note that Windows 7 and Windows Vista only have two versions each, as they are multilingual.)  can also tell WSUS to put all of the updates onto a thumb drive. When you're done, hit the Start button. It may take quite a while, but WSUS will download all the updates that are available and plop them right into the correct directory.
To install the updates, go to your offline computer and plug in the thumb drive you created. Open UpdateInstaller.exe (it may be hidden in the client subfolder depending 0n your setup), and you'll be ready to go!
WSUS Offline Update is a bit of a niche product, but for those that need it, it can be extremely helpful.
Price: Free!
Version discovered: v7.3.2
Supported OS: Windows 
Download size: 1.8MB
VirusTotal malware scan results: 1/41
Portability: No installation required!
SharpKeys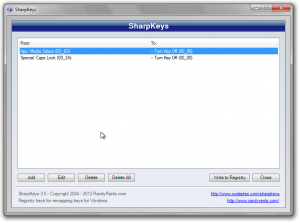 Do you sometimes accidentally hit cAPS lOCK instead of sHIFT AND WIND UP TALKING LIKE THIS? Do you hit the Windows key at the most inopportune moments, causing whatever game you're playing to gleefully freeze and laugh at you? Sounds like you're the perfect candidate for some key re-mapping.
We covered SharpKeys last August, and it's such a great program we felt it's time to feature it again.  It's a super easy to use interface for remapping your keyboard, and it lets you select special buttons (such as media buttons and special characters) alongside function buttons such as Caps and Windows. After you select a key to remap, you simply have to select something to remap it to. For instance, you can remap Caps Lock to Shift and Windows to <nothing>, so that they both work as expected.
SharpKeys is quite a nice program, and that it doesn't require installation is even nicer. That means there's no messy registry gunk left over after using it, only the keys necessary to remap your leopard.
Price: Free!
Version discovered: v3.5
Supported OS: Windows 2000+
Download size: 475KB
VirusTotal malware scan results: 0/42
Portability: Requires installation
Thanks Haakon!
dotTechies: We have tested all the software listed above. However, Windows Software of the Day articles are not intended as "reviews" but rather as "heads-up" to help you discover new programs. Always use your best judgement when downloading programs, such as trying trial/free versions before purchasing shareware programs, if applicable.
Related Posts